A. G. Russell Black Dragon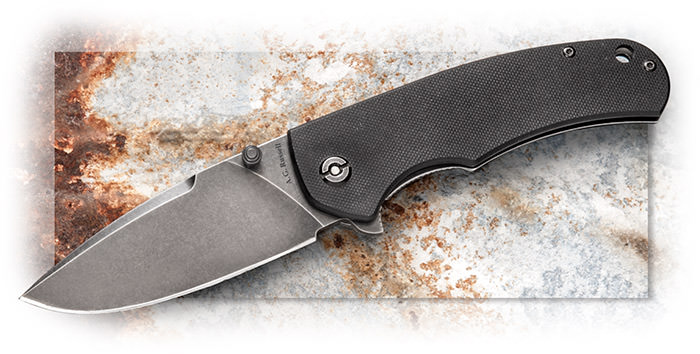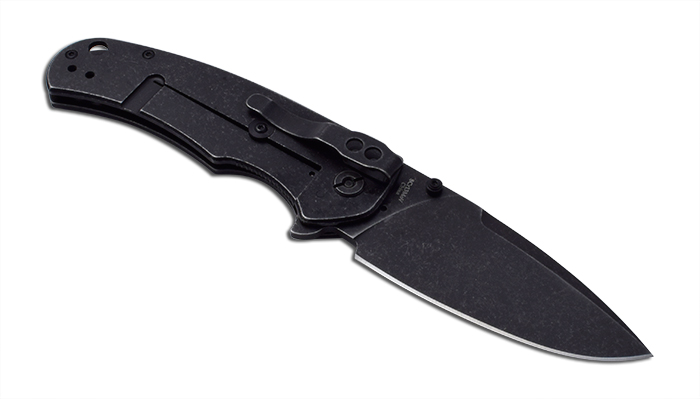 Item #:
AGFR-C5BKD
$44.95
When I began designing our newest mid-size frame lock, I knew that it had to be made using our recently developed "FeatherLite" construction. The G-10 side has a heat-treated featherlite (machined out netting of stainless steel) liner and the stainless steel lock side has been CNC machined to remove all extra weight. The entire knife weighs barely 4 oz. The knife is BLACK from tip to butt and is built for fast, sure opening and closing as well as easy maintenance.
The 3-1/2" flat ground drop point blade is 8Cr13MoV at 57-59 Rc. and measures 1-1/4" wide and 1/8" thick. The removable clip can be reversed for either tip-up or tip-down carry, lock side only. When you realize that this knife is made by the finest maker of this quality in this style of knife, the price is remarkable. Measures 4-1/2" closed and weighs 4.1 oz. Made in China.
Type

Folder

Blade

Drop Point

Blade Length

3-1/2"

Blade Steel

8Cr13MoV

Rockwell

57-59

Lock

Frame Lock

Liners

Stainless

Handle

G-10

Closed Length

4-1/2"

Clip

Tip-up/Tip-down

Weight

4.1 oz.

Origin

China
A.G. Russell Knives
From the age of nine I made homemade knives until I was about twenty-four when I began to make handmade knives, crude but no longer made at home. A few years later, I had met and learned from makers like R.W. Loveless and R. L. Dozier. I made knives until the mid 1970s. I don't make handmade knives anymore, as my hands aren't what they used to be. However, I do have very talented makers in the United States and Japan who make knives that I am proud to put my name on. I design pocketknives, one hand knives, lockbacks, and fixed blade knives and have them made to our standards. ~A.G. Russell III
A.G. Russell has been in the knives and whetstones business for over 50 years. A.G. Russell knives are well known for their quality. A.G. Russell knives tend to be more traditional in style and look, with modern advances in material and design to create excellent knives.
Congratulations on the design and manufacture of the Black Dragon. I have been looking for a long time for a folder (EDC) that had a hunting, fighting, work size blade that did not weigh too much. A lot to ask of a blade of this size. But, you did it. It is thin but strong. Disappears in the pocket but does not crowd it. This is a serious blade in a serious package at a price point that is terrific. Rating: 10/10. Moses S. Carthage, NC
Just received my Black Dragon and wanted to tell you how pleased I am. I saw this knife in a review in Blade magazine and thought that there was no way it could be as good as they had reviewed it. Boy, was I wrong. This has to be one of the best $45 dollar knives I've ever bought. The weight is great, the handles, even being as thin as they are give a good grip and the blade size and shape are about perfect for me. Shaving sharp out of the box. Good even grind. Blade well centered in handles. Came with two pocket clips, but I think I will stay with the one that came on it. Gives an extremely deep carry, cant see anything but the clip in the pocket. Blade opening is a little stiff right now, but it is already getting smoother. Think I will wait a bit before I loosen it. Would maybe have liked to have a blade stop, but for anything all of us warehouse commandos need a knife for, it think it will be more than sufficient. I still can't believe this is only a $45 knife. If I had seen this in a store in person I would have gladly paid half again that much and thought I was getting a bargain. I have a couple of A.G. Russell knives I got a long time ago, I think they were called One Handed Knives. They have a stainless handle with the lock integral to the handle (newest One Hand knife version has scales and titanium). Back then, I couldn't afford much, but I got these because I thought they were really cool. Still think they are. I don't know why I forgot about you guys, but I know I'm going to have to start keeping a closer eye on A.G. Russell knives from now on. If you can turn out a knife like the Black Dragon for $45, I can't wait to see what you do next. Again, please accept my sincere apologies for losing track of you guys, believe me when I say it won't happen again. Also, thanks for the great service. Only three days (not counting Sunday) from the time I ordered till the time I received my knife from AR to GA. Great service. Thanks again for re-enlightening me to A.G. Russell! David V. Woodstock, Georgia