A.G. Russell Boxcar Jack Revised - Pink and Blue Oak Handle Scales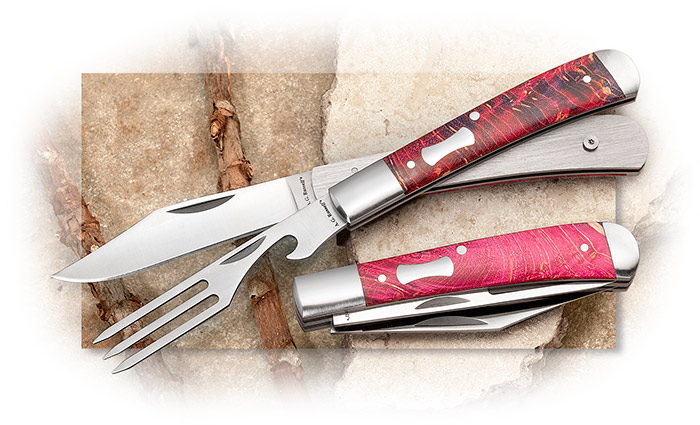 Item #:
RUS-CJ33PKO
$115.00
Pink and Blue Oak Handle Scales
Because it was such a handy tool during the Great Depression, a knife of this design was carried by the men who traveled around the country looking for a way to make a living. They were called hobos and thus this style knife became known as a Hobo Knife. Since that time, the name has been trademarked by W.R. Case and Sons. We call ours the Boxcar Jack because the primary mode of transportation for hobos was freight trains.
These knives are available with black G-10, green G-10, yellow Delrin, smooth brown bone and blue oak on page 8 of this catalog. We have used the oak, which has been dyed and stabilized, as handle scales on other knives with tremendous success. When the shipment of the Boxcar Jack arrived, we found that about half of the handles scales were mostly pink. We have separated those with pink from the blue and are offering them separately.
The blade steel is 8Cr13MoV at 57-59 Rc. with a satin finish. The knife blade measures 3-1⁄4" and the fork 3". The bolsters, liners and shield are stainless steel. Measures 3-3⁄4" closed. Weighs about 3.5 oz. Made in China.
Type

Folder

Blade

Clip - Fork

Blade Steel

8Cr13MoV

Rockwell

57-59

Lock

Slip Joint

Bolsters

Stainless

Liners

Stainless

Handle

Oak

Closed Length

3-3/4"

Weight

3.7 oz.

Origin

China
A.G. Russell Knives
From the age of nine I made homemade knives until I was about twenty-four when I began to make handmade knives, crude but no longer made at home. A few years later, I had met and learned from makers like R.W. Loveless and R. L. Dozier. I made knives until the mid 1970s. I don't make handmade knives anymore, as my hands aren't what they used to be. However, I do have very talented makers in the United States and Japan who make knives that I am proud to put my name on. I design pocketknives, one hand knives, lockbacks, and fixed blade knives and have them made to our standards. ~A.G. Russell III
A.G. Russell has been in the knives and whetstones business for over 50 years. A.G. Russell knives are well known for their quality. A.G. Russell knives tend to be more traditional in style and look, with modern advances in material and design to create excellent knives.