A.G. Russell Clip Point Blade Sowbelly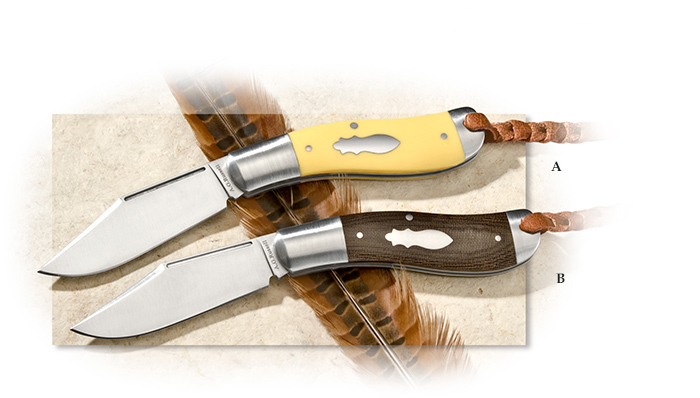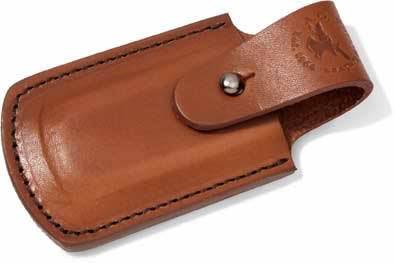 Item #:
RUS-CV132YD
$49.95
In early 2011, I introduced my version of the Sowbelly Trapper. The Sowbelly pattern is smaller at the blade end and somewhat serpentine in shape. In my version the large end is swelled until it looks like a very pregnant sow and the bolsters are curved allowing a very natural line for the open blade. I also designed blades that appear almost too long to fit into the handle, and added a stop pin that keeps the blades from ever meeting the back spring - no ding to the blade. This allows us to make the blades wider than most designers are able to accomplish. All of this makes for a very large knife. Because of customers' requests, we are now producing this knife in two single blade versions; the Clip Point blade and the Wharncliffe blade.
This is a 4-1/4" closed, single blade slipjoint folder. The 3-3/8" flat ground blades are 3/32" thick 8Cr13MoV at 57-58 Rc. The liners, bolster, caps and the shields are all 400 series stainless steel. Handle scales are available in pemium Cocobolo from our own inventory, brown Rucarta™ a phenolic based material that is the most durable and VERY yellow Delrin®, which is not only unique, but with such intense color your knife will be hard to lose. Includes a handsome brown braided thong for lifting the knife from the pocket. Made in China.
Option B is SOLD OUT
Weighs 4.3 oz.
Type

Folder

Blade

Clip Point

Blade Length

3-3/8″

Blade Steel

8Cr13MoV

Rockwell

57-58

Lock

Slipjoint

Bolsters

Stainless

Liners

Stainless

Handle

Yellow Delrin

Closed Length

4-1/4″

Weight

4.3 oz.

Origin

China
A.G. Russell Knives
From the age of nine I made homemade knives until I was about twenty-four when I began to make handmade knives, crude but no longer made at home. A few years later, I had met and learned from makers like R.W. Loveless and R. L. Dozier. I made knives until the mid 1970s. I don't make handmade knives anymore, as my hands aren't what they used to be. However, I do have very talented makers in the United States and Japan who make knives that I am proud to put my name on. I design pocketknives, one hand knives, lockbacks, and fixed blade knives and have them made to our standards. ~A.G. Russell III
A.G. Russell has been in the knives and whetstones business for over 50 years. A.G. Russell knives are well known for their quality. A.G. Russell knives tend to be more traditional in style and look, with modern advances in material and design to create excellent knives.
For over 3 years know I have carried the A.G. Russell Cowboy pocket knife 6 days a week (on Sunday I replace it with the dressier single blade Sowbelly with Brown Rucarta). This knife is rugged and the federal shield gives it a touch of class. It takes a good edge. I have only had to sharpen it twice after hard use. Most of the time all it needs is stropping it on the bottom of my ceramic coffee mug a few strokes to bring it back to shaving sharp. The quality is excellent. After 3 years of constant use it still opens and snaps shut like a bank vault. Paul B. Holly Springs, GA