A. G. Russell Medium Folding Gents Hunter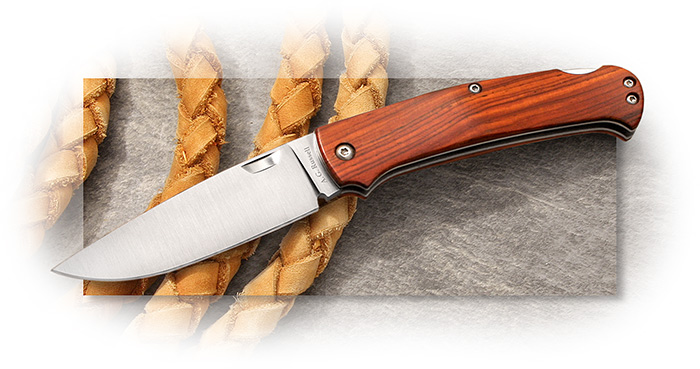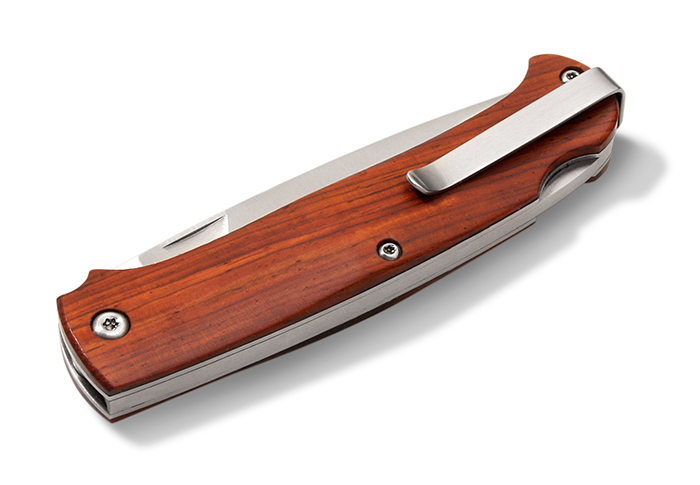 Item #:
AGLB-C232CO
$85.00
This is a new, smaller version of the smoothest, easiest to open and close lockback I have ever designed. The closed length is 3-7⁄8" vs 4-3/8". I spend my Saturday's in our retail store talking to customers. Of course, the Folding Gents Hunter is one of the knives that I talk about. We sell a lot of that knife, but I am always getting requests for a smaller size. So guess what, here it is. There are the same great sculptured handle scales of Green G-10, Cocobolo, or Carbon Fiber and the same 9Cr13CoMoV blade steel with 9 pts. of Carbon, 13 % Chrome with Cobalt, Modibdenum and Vanadium at 58-60 Rc., all reduced proportionally.
I am especially fond of the Featherlight™ Stainless Steel liners. They are skeletonized to reduce weight, then heat-treated to give the necessary strength. Like the original, this is a lockback, one of the safest and most secure locks you will find on a folding knife. The 3-1/4" drop point blade is 9Cr13CoMoV at 58-60 Rc. The clip is reversible (right or left) for tip up pocket carry.
Measures 3-7/8" closed. Each knife weighs about 2.2 oz. depending on the handle material. Made in China. A great everyday carry for the person who wants the fastest, smoothest lockback EDC they can put in their pocket.
Overview of the Folding Gents Hunter II - the larger version of the the Medium Folding Gents Hunter
Type

Folder

Blade

Drop Point

Blade Length

3-1/4"

Blade Steel

9Cr13CoMoV

Rockwell

58-60

Lock

Lockback

Liners

Stainless

Handle

Cocobolo

Closed Length

3-7/8"

Clip

Tip-up Reversible

Weight

2.1 oz.

Origin

China
A.G. Russell Knives
From the age of nine I made homemade knives until I was about twenty-four when I began to make handmade knives, crude but no longer made at home. A few years later, I had met and learned from makers like R.W. Loveless and R. L. Dozier. I made knives until the mid 1970s. I don't make handmade knives anymore, as my hands aren't what they used to be. However, I do have very talented makers in the United States and Japan who make knives that I am proud to put my name on. I design pocketknives, one hand knives, lockbacks, and fixed blade knives and have them made to our standards. ~A.G. Russell III
A.G. Russell has been in the knives and whetstones business for over 50 years. A.G. Russell knives are well known for their quality. A.G. Russell knives tend to be more traditional in style and look, with modern advances in material and design to create excellent knives.
The Medium Folding Gent's Hunter is a great knife! I got cocobolo and it looks and feels beautiful. this is one of your nicest knives. Rated: 10/10. The only changes I'd make would be to make the opening nick larger or even a flipper. Iance W. Oakland Park, FL
I made my first purchase from AG Russell in 1976. It was a Buck 501 folder the day he received them. Since then I have bought many more knives from A.G. and I have never been disappointed. [This Medium Folding Gents hunter I bought] is no exception. It is everything A.G. says it is in his video on the full size model. I ordered the G10 handle because of its durability. I like the color and the feel in the hand. It will be my new EDC.
Changes:
I would like to see the nail mark made 1/8" longer. I have to crimp my hand to get my thumb to the current mark.
Rating: 8/10 John S. Pflugerville, TX
I'm just writing to say that the Medium Folding Gents Hunter is amazing! I've owned hundreds of knives over the years, and this is without a doubt the smoothest opening lockback I've ever handled. Great fit and finish as well. Changes: The pocket clip tension is a little bit high, but only noticeable with thicker pant pockets.
Rating: 10/10.
You've got the large gents hunter and the medium gents hunter. The natural next step is the mini gents hunter! A sub-3" blade would be great (especially for people who live in cities with blade length limits, like Los Angeles). Brian, C. Los Angeles, CA
I just received a Folding Gent's Hunter II (in Cocobolo) and it is a stunner! The design and fit and finish are fantastic. I really like the simplicity of the design, but the subtlety of the shapely handle scales and minimalist pocket clip and the way it is integrated into the frame and handle are examples of great design, sort of the "less is more" philosophy of one of the great architects from the past. Was the knife "cheap".........no. Is it a great value at the price......... yes. A.G. and his Chinese Skunkworks can really hit em out of the park in terms of quality and value. Jim S. Port Orchard, WA