A. G. Russell D'Holder Hunter with Faux Oosic & Amber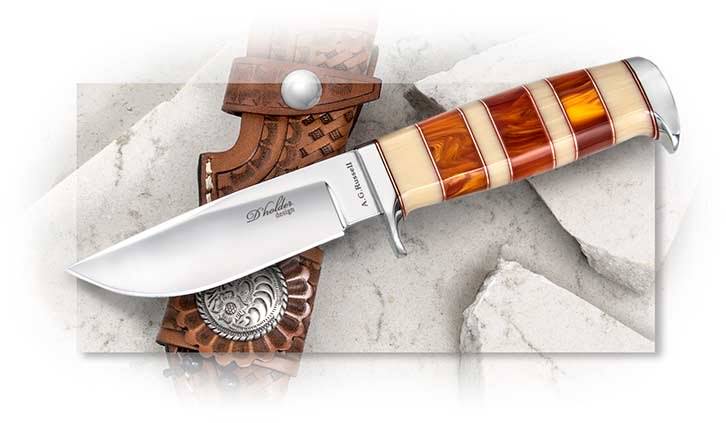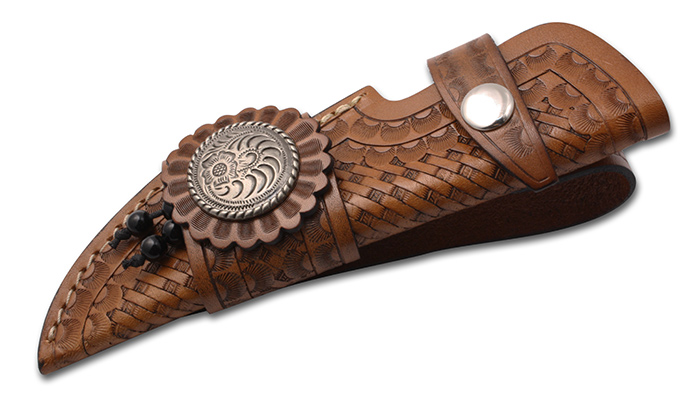 Item #:
RU-T553AO
$345.00
Limited to less than 500 knives.
A few years ago D'Holder designed a knife for me to make and sell. I found handle materials that looked like the natural oosic and amber that D' had used in the prototype and then began to look for someone who could do justice to the original knife and sheath. The process has taken several years, but finally we have a gorgeous representation of D's handmade knife. Our plan was to make 500 knives, but it took a little more handle material for each knife than we calculated so we have ended up with somewhat less.
The design is a clip point that is very similar to his "My Knife", a drop point design that has been popular from very early in D's career as one of America's outstanding knifemakers. The handle is all D'Holder. The narrow tang with alternating materials has been his trademark for years, with those made with Oosic and Amber probably being the most popular. They certainly have been with A. G. Russell™ customers. This handsome hunting knife has a 4-1/4" blade of 9Cr18Mo hardened to 58-60 Rc. The handle is dressed with alternating rounds of Faux Amber and Faux Oosic, separated with spacers of red fiber and brass. The stainless guard and butt match the fantastic polish on the perfectly ground blade. The tooled leather sheath is an excellent copy of D's original. Made in Taiwan.
Type

Fixed

Blade

Clip Point

Blade Length

4-1/4″

Blade Steel

9Cr18Mo

Rockwell

58-60

Hilt Guard

Stainless

Butt Cap

Stainless

Handle

Faux Amber & Oosic

Overall Length

8-3/4″

Sheath

Leather

Origin

Taiwan
A.G. Russell Knives
From the age of nine I made homemade knives until I was about twenty-four when I began to make handmade knives, crude but no longer made at home. A few years later, I had met and learned from makers like R.W. Loveless and R. L. Dozier. I made knives until the mid 1970s. I don't make handmade knives anymore, as my hands aren't what they used to be. However, I do have very talented makers in the United States and Japan who make knives that I am proud to put my name on. I design pocketknives, one hand knives, lockbacks, and fixed blade knives and have them made to our standards. ~A.G. Russell III
A.G. Russell has been in the knives and whetstones business for over 50 years. A.G. Russell knives are well known for their quality. A.G. Russell knives tend to be more traditional in style and look, with modern advances in material and design to create excellent knives.