A. G. Russell Doodle Bug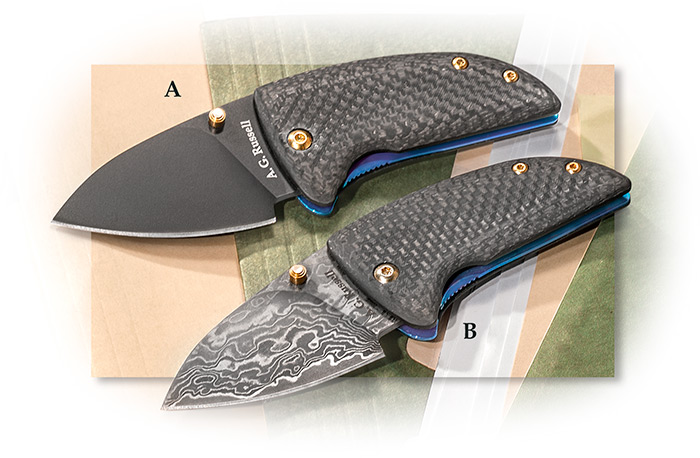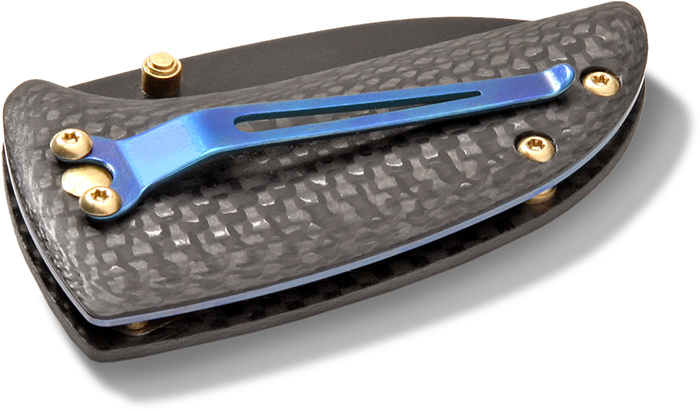 Item #:
AGLL-C15D2
$95.00
The Doodle Bug was designed as a complement to the A. G. Russell™ Light'n Bug which we introduced mid-year 2016. I plan to add other designs to make this a small series based on carbon fiber handles, blue anodized titanium liners and clip, and gold titanium nitride coated screws and thumbstuds. The Doodle Bug; shorter, wider and a bit heavier than the long and sleek Light'n Bug, is not so much a replacement as a companion for that iconic little knife. Either knife clips nicely to the front placket of any dress shirt or to the top of your dress pants pocket.
The Doodle Bug blade measures 2-1/4" x 1-1/4" wide. The carbon fiber handles are just 2-3/4" x 1-3/8" wide. The single liner and clip are blue anodized titanium. One has a D2 tool steel blade at 60-61 Rc. with a black titanium oxide coating. The other has a Damascus blade with a center core of 9Cr13MoV at 58-60 Rc. The screws and thumbstuds are gold titanium nitride coated stainless steel. Each knife weighs just under 1.5 oz.
Option A
A.G. Russell Doodle Bug - Black D2 Blade
Item #: AGLL-C15D2 $95.00
LOW STOCK
Option B
A.G. Russell Doodle Bug - Damascus Blade
Item #: AGLL-C15DAM $135.00
In Stock
Option A
A.G. Russell Doodle Bug - Black D2 Blade
Type

Folder

Blade

Drop Point

Blade Length

2-1/4"

Finish

Black Titanium Coating

Blade Steel

D2

Rockwell

60-61

Lock

Liner-style

Handle

Carbon Fiber

Closed Length

2-3/4"

Clip

Blue Titanium

Weight

1.5 oz.

Origin

China
Option B
A.G. Russell Doodle Bug - Damascus Blade
A.G. Russell Knives
From the age of nine I made homemade knives until I was about twenty-four when I began to make handmade knives, crude but no longer made at home. A few years later, I had met and learned from makers like R.W. Loveless and R. L. Dozier. I made knives until the mid 1970s. I don't make handmade knives anymore, as my hands aren't what they used to be. However, I do have very talented makers in the United States and Japan who make knives that I am proud to put my name on. I design pocketknives, one hand knives, lockbacks, and fixed blade knives and have them made to our standards. ~A.G. Russell III
A.G. Russell has been in the knives and whetstones business for over 50 years. A.G. Russell knives are well known for their quality. A.G. Russell knives tend to be more traditional in style and look, with modern advances in material and design to create excellent knives.