A.G. Russell Dozier Tab Lock Trapper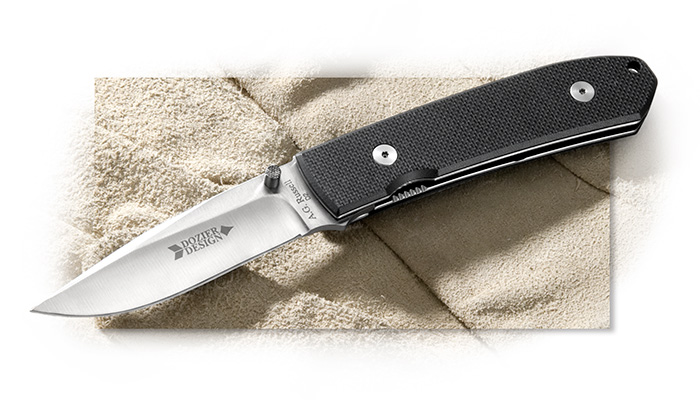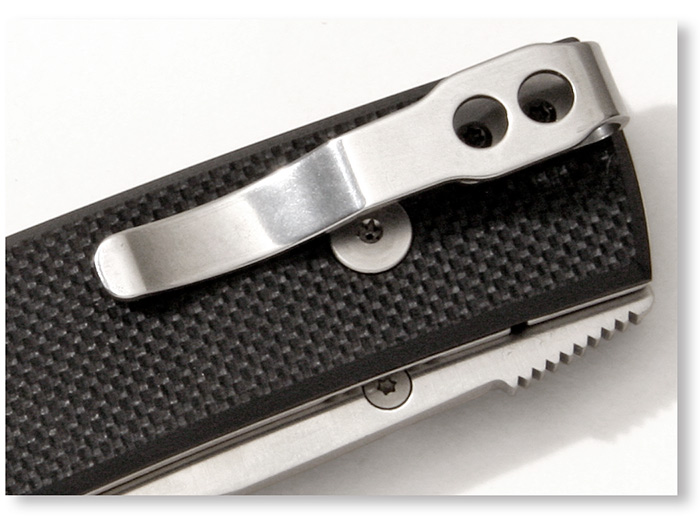 Item #:
RUS-TD12G10
$145.00
For years, Goldie has wanted to produce this Dozier Trapper pattern. We have worked unsuccessfully with a couple of manufacturers, but in each instance they were unable, or unwilling, to produce the Dozier style lock with the exacting tolerances necessary, opting to simply use a liner style lock that they were already using on other knives. In the years it has taken us to find a factory that would produce the knife to our specifications, Bob has improved the lock design and we have applied for a patent. This is a lock that stops on a flat line tab, able to stand up to the battering to which we knife nuts subject our knives. You get less wear, a solid lock-up and smooth action without blade movement when open.
Bob Dozier is one of a scant half dozen makers that I consider to be at the top of the profession. He has been making knives since he was a boy. He is a knifemaker, welder, fabricator, designer of knives and knifemaking equipment, and one of the outstanding leather workers in our industry. I have purchased two lock designs from him and two knife designs. We look forward to lots of new knives coming out of these designs over the next year.
The Dozier Tab Lock Trapper is a large folder with a 3-3/4" modified drop point blade of German D2 at 60-61 Rc. Bob often uses German D2 as well as American made D2 in his handmade hunters and folders. The 4-3/4" handle consists of very "grippy" G-10 scales over stainless steel liners. Includes a stainless deep pocket clip allowing the knife to ride deep in your pocket. Weighs 5.0 oz. Made in Taiwan. This knife is as close as you can get to a $600 Dozier Folder, and for less than a quarter the price.
Type

Folder

Blade

Clip Point

Blade Length

3-3/4″

Blade Steel

D2

Rockwell

60-61

Lock

Dozier Tab-Lock

Liners

Stainless

Handle

G-10

Closed Length

4-3/4″

Weight

5.0 oz.

Origin

Taiwan
A.G. Russell Knives
From the age of nine I made homemade knives until I was about twenty-four when I began to make handmade knives, crude but no longer made at home. A few years later, I had met and learned from makers like R.W. Loveless and R. L. Dozier. I made knives until the mid 1970s. I don't make handmade knives anymore, as my hands aren't what they used to be. However, I do have very talented makers in the United States and Japan who make knives that I am proud to put my name on. I design pocketknives, one hand knives, lockbacks, and fixed blade knives and have them made to our standards. ~A.G. Russell III
A.G. Russell has been in the knives and whetstones business for over 50 years. A.G. Russell knives are well known for their quality. A.G. Russell knives tend to be more traditional in style and look, with modern advances in material and design to create excellent knives.