A.G. Russell Field Knife 2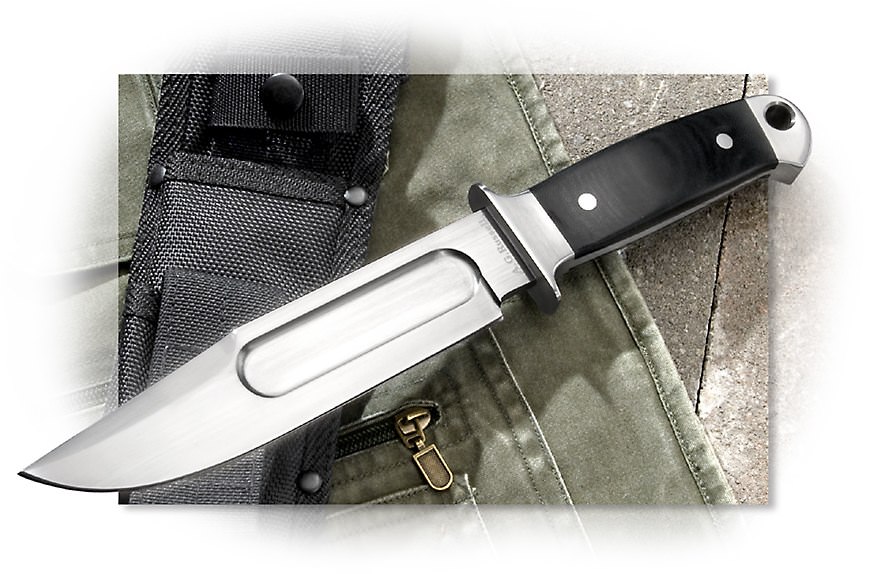 Item #:
RU-T613BM
$175.00
In the middle of 2004, we issued the first A. G. Russell™ Field Knife, our concept of the maximum knife for troops in the field. It was an immediate success. In this newer version, my goal was to make major improvements without violating the basic design. I have given you a knife made from high quality stainless steels from butt to point, with black Micarta™ inserts covering a full tang between the double guard and the stainless butt. The 7-1/8" blade of AUS-10 at 59-61 Rc. measures 1-1/2" wide and 1/4" thick with a fantastic hand rubbed finish and the most remarkable fuller, or blood groove if you will, that you have ever seen. Measures 12" overall and weighs 13.7 oz. The sheath is nylon over a hard insert, with a pouch on the front that will accept a large multi-tool or a pistol magazine. Made in Taiwan.
I have been designing knives for a living for over 40 years and have never seen a better design for the purpose. Our manufacturer in Taiwan has interpreted my vision extremely well. If you can find a better knife for camp and field you should buy it quickly.
If you are buying this knife for someone in the military, order it shipped to them at a military address and enjoy our 25% Military Discount.
Option
A.G. Russell™ Field Knife 2 w/Nylon Sheath
Item #: RU-T613BM $175.00
In Stock
Option
A.G. Russell™ Field Knife 2 Leather Sheath Only
Handmade black leather sheath designed as an alternate carry option for the A.G. Russell™ Field Knife 2. Knife not included.
Item #: LS-T613 $45.00
In Stock
Option
A.G. Russell™ Field Knife 2 w/Nylon Sheath
Type

Fixed

Blade

Clip Point

Blade Length

7-1/8″

Blade Steel

AUS-10

Rockwell

59-61

Hilt Guard

Stainless

Handle

Black Micarta

Tang

Full

Overall Length

12″

Weight

13.7 oz

Sheath

Nylon

Origin

Taiwan
A.G. Russell Knives
From the age of nine I made homemade knives until I was about twenty-four when I began to make handmade knives, crude but no longer made at home. A few years later, I had met and learned from makers like R.W. Loveless and R. L. Dozier. I made knives until the mid 1970s. I don't make handmade knives anymore, as my hands aren't what they used to be. However, I do have very talented makers in the United States and Japan who make knives that I am proud to put my name on. I design pocketknives, one hand knives, lockbacks, and fixed blade knives and have them made to our standards. ~A.G. Russell III
A.G. Russell has been in the knives and whetstones business for over 50 years. A.G. Russell knives are well known for their quality. A.G. Russell knives tend to be more traditional in style and look, with modern advances in material and design to create excellent knives.