A. G. Russell Gentleman's Frame Lock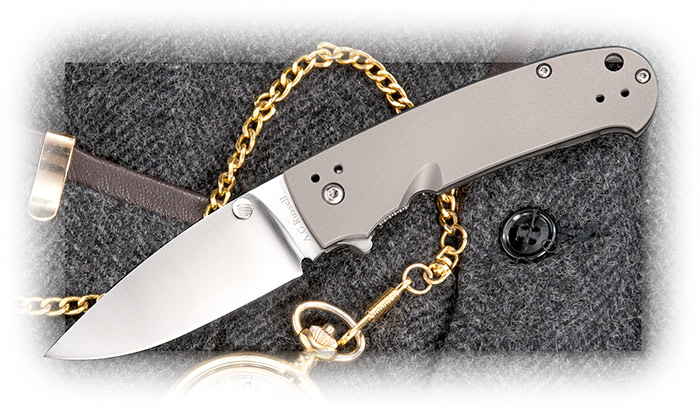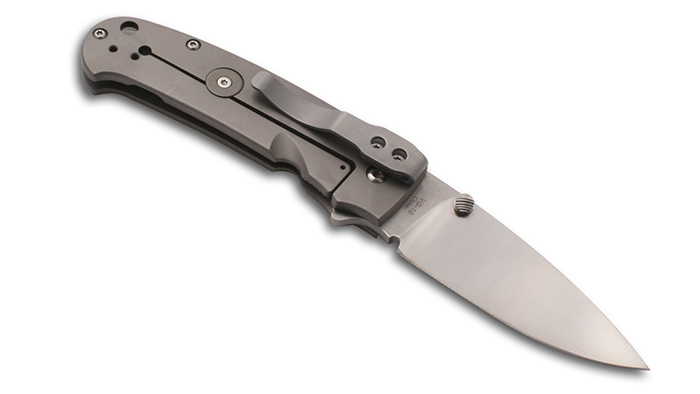 After the success of the Acies and the Acies2, I knew I wanted to design more Frame Lock knives, and to offer them at every possible price level. I am well aware that not everyone who wants an Acies2 can afford one. This knife has a 3" hollow ground, satin finished blade of 1/8" thick VG-10 at 59-61 Rc . The 3-7/8" handles are bead-blasted Titanium. There are four points at which the clip can be fastened and we furnish both a deep pocket clip of my own design and a standard type clip that allows about an inch of knife to stay above the pocket for easy access. Both clips are bead blasted to match the handle.
This knife is well suited for the user who wants a knife to carry every day that can be opened with either hand. It not only has a thumb stud on both sides of the blade, it also has a "trigger" for easy opening with either hand, making it an ambidextrous knife. Since you can apply the clip of your choice for either right or left hand carry, tip up or tip down, this is a knife for everyone who wants to own a finely made Frame Lock knife with a premium steel at a reasonable cost. Made in China.
Type

Folder

Blade

Drop Point

Blade Length

3″

Blade Steel

VG-10

Rockwell

59-61

Lock

FrameLock

Handle

Titanium

Closed Length

3-7/8″

Clip

Removable/Reversible

Weight

3.0 oz.

Origin

China
A.G. Russell Knives
From the age of nine I made homemade knives until I was about twenty-four when I began to make handmade knives, crude but no longer made at home. A few years later, I had met and learned from makers like R.W. Loveless and R. L. Dozier. I made knives until the mid 1970s. I don't make handmade knives anymore, as my hands aren't what they used to be. However, I do have very talented makers in the United States and Japan who make knives that I am proud to put my name on. I design pocketknives, one hand knives, lockbacks, and fixed blade knives and have them made to our standards. ~A.G. Russell III
A.G. Russell has been in the knives and whetstones business for over 50 years. A.G. Russell knives are well known for their quality. A.G. Russell knives tend to be more traditional in style and look, with modern advances in material and design to create excellent knives.
A.G. Russell Gentleman's Framelock - I love the blade on this knife. It is about perfect and holds an edge well. The size and weight are spot on for EDC. Changes: Two things. 1. I wish that the blade would fully open when using the flipper. Had I known that it was designed to not kick all the way open, I might have selected a different model. 2. the deep pocket clip should use flat screws and be countersunk to allow more room for the clip to slide down into your pocket. As it is designed the knife cannot fully seat. the thickness of your pocket material is too wide to slide past the heads of the screws. Rating: 8/10
James H. Eureka Springs, AR
I just got A.G. Russell Gentleman's Frame Lock Folding Knife. I like it overall so far. I wanted a titanium frame knife at a reasonable price and this knife is that. I like the blade and the frame-lock design. The deep pocket clip does not work as well as I would like because the clip's screw is not flush with the scale. Which is disappointing because I prefer this method of carrying the knife. Frank R. La Grange, TX