A.G. Russell Hollow Ground Sting 3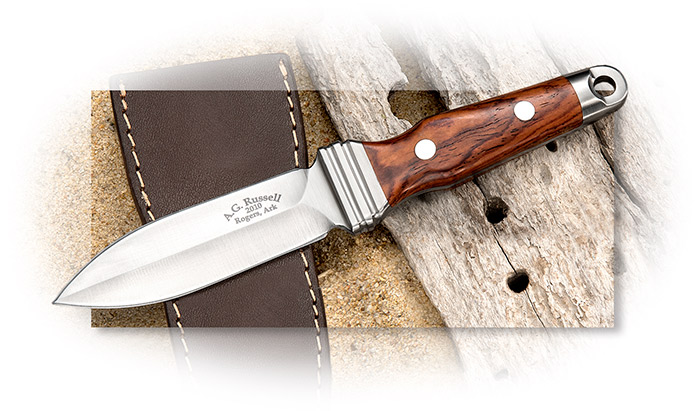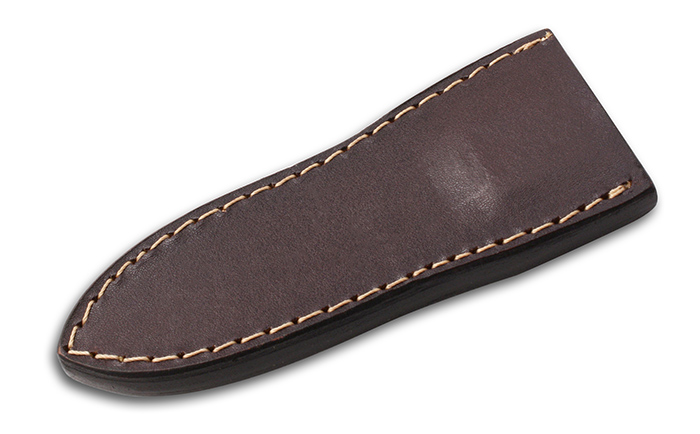 Item #:
AGST-T3HCO
$99.95
Not tempered for throwing
The original A. G. Russell Sting™ was produced in Germany from 1975 until the mid 1990s when Erica Dahmann sold Anton Wingen. The company ceased to exist as we had known it and our tooling was sold for scrap. Those German made Stings include the Sting, the Sting II, a larger version, and the Sting1A, an all steel version of the original. We sold the knives made over that twenty-year period for a beginning price of about $35, ending up at around $125. In mint condition, they now sell on e-bay® and in the Cutting Edge® for as much as $400.
We worked on the new Sting™3 for two plus years, intending to do the one-piece forgings in Germany and the grinding and finishing in the United States. After almost two years without a finished sample, we recovered our deposit for the forging dies and cancelled the project. At that point, the project was moved to Taiwan where the knives are forged from a single piece of honest to goodness 440C, a better steel than that in the old German-made knives. The first version with black linen Rucarta™ handle scales was introduced in February 2010. We now offer it also with handle scales of solid Cocobolo.
I have taken care to make the Sting™3 in such a way that the unscrupulous could not make one look like an original. The hollow ground double-edged blade measures almost 3-1/2" in length and an inch wide at the widest point. Stainless rivets hold the solid genuine Cocobolo handle scales in place on the integral tang. Measures 7-1/4" tip of blade to pommel and weighs 3.9 oz. The sturdy dark brown leather sheath has a metal belt/boot style clip. Made in Taiwan.
Type

Fixed

Blade

Dagger

Blade Length

3-1/2″

Blade Steel

440C

Rockwell

57-59

Hilt Guard

Integral

Handle

Cocobolo

Tang

Integral

Overall Length

7-1/8″

Weight

3.9 oz

Sheath

Leather w/Boot Clip

Origin

Taiwan
A.G. Russell Knives
From the age of nine I made homemade knives until I was about twenty-four when I began to make handmade knives, crude but no longer made at home. A few years later, I had met and learned from makers like R.W. Loveless and R. L. Dozier. I made knives until the mid 1970s. I don't make handmade knives anymore, as my hands aren't what they used to be. However, I do have very talented makers in the United States and Japan who make knives that I am proud to put my name on. I design pocketknives, one hand knives, lockbacks, and fixed blade knives and have them made to our standards. ~A.G. Russell III
A.G. Russell has been in the knives and whetstones business for over 50 years. A.G. Russell knives are well known for their quality. A.G. Russell knives tend to be more traditional in style and look, with modern advances in material and design to create excellent knives.