A.G. Russell K12 One Hand Knife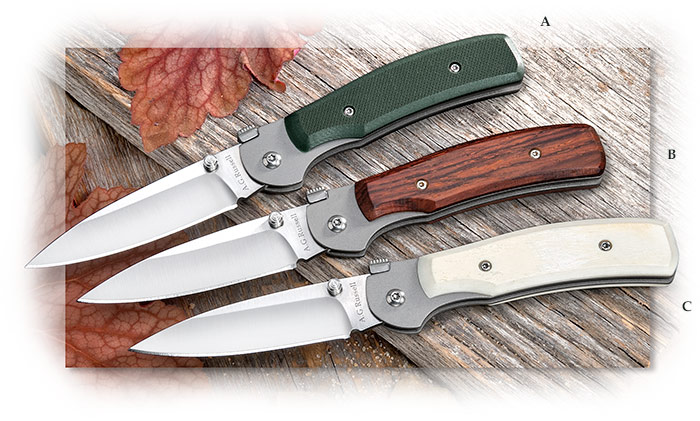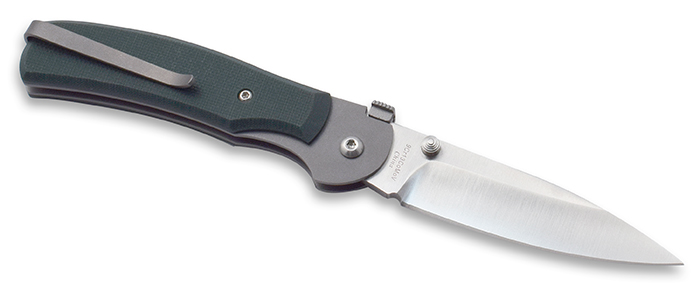 Titanium Frame and 9Cr13CoMoV Blade
When I designed the original One-Hand Knife™ in 1986, I used the following year as the model number - K87. As costs rose, the retail price had to rise as well. I quickly needed a new knife that would operate in the same fashion, allowing the owner to open and close the knife with only one hand, either hand, but with a lower price. This led, in 1992, to the A. G. Russell FrontLock™. The first knife made with this lock was the K-93 with a handle molded of Dupont Zytel®, fiberglass filled nylon, followed by the K-94 with stainless steel handles. In 1995, we made a few handmade knives - the K95 - using the same mechanism, with handles of black and coral Rucarta™.
Our newest in the K series One-Hand Knives™ is the K12, using this same FrontLock™ mechanism. This is a new size with a blade that measures just under the magic 3". We have replaced the glass-filled nylon lock bar stud with one of die-cast stainless steel. The frame, including the back-spacer, is titanium, creating a very lightweight knife. The blade steel is 9Cr13CoMoV at 58-60 Rc. with a handsome satin finish and a very sharp edge. Includes a reversible tip-up titanium clip.
This remarkable One-Hand Knife™ is available with textured green G10, cocobolo or smooth white bone. Measures right at 3-3/4" closed and weighs 2.5 oz. Made in China.
Option A
A.G. Russell™ K12 with Green G10
Item #: K12-9CRGR $74.95
In Stock
Option B
A.G. Russell™ K12 with Cocobolo
Item #: K12-9CRCO $79.95
In Stock
Option C
A.G. Russell™ K12 with White Bone
Item #: K12-9CRSWB $84.95
ONLY 1 LEFT
Option A
A.G. Russell™ K12 with Green G10
Type

Folder

Blade

Drop Point

Blade Length

3″

Blade Steel

9Cr13CoMoV

Rockwell

58-60

Lock

One-Hand Lock

Handle

Green G-10

Closed Length

3-3/4″

Clip

Reversible Tip-Up

Weight

2.5 oz.

Origin

China
Option B
A.G. Russell™ K12 with Cocobolo
Option C
A.G. Russell™ K12 with White Bone
A.G. Russell Knives
From the age of nine I made homemade knives until I was about twenty-four when I began to make handmade knives, crude but no longer made at home. A few years later, I had met and learned from makers like R.W. Loveless and R. L. Dozier. I made knives until the mid 1970s. I don't make handmade knives anymore, as my hands aren't what they used to be. However, I do have very talented makers in the United States and Japan who make knives that I am proud to put my name on. I design pocketknives, one hand knives, lockbacks, and fixed blade knives and have them made to our standards. ~A.G. Russell III
A.G. Russell has been in the knives and whetstones business for over 50 years. A.G. Russell knives are well known for their quality. A.G. Russell knives tend to be more traditional in style and look, with modern advances in material and design to create excellent knives.
K12 in G-10. Really like the knife, lightweight and easy to carry. Good for light duty around the house and farm. The spring clip, made of titanium leaves a bit to be desired though. While I'm sure it saves some weight, it did not retain its shape or "spring", making it necessary to check that the knife has not slipped out of the pocket. I also have found it impossible to remove the torx head screw holding the clip on because the Torx impression is not deep enough to apply enough torque. Changes: Maybe a stainless clip would hold up better and retain its spring.
A small cap head screw would work better than the one used.

Rating: 7/10 Robert F. Lyndeborough, NH
I like stag or bone handles, and have started to collect knives with white bone. It's my chosen poison of the moment. I recently purchased a couple of the white bone Boker Barlow models you offered and gave one away as a gift. It went over extremely well. The A.G. Russell K-12 One Hand Knife is another of my favorites to take to the steak house. I have it in white bone. The waiter has taken an interest in it so I need to be sure to put it back in my pocket. This note is running too long, but I can't help but tell you something with respect to carrying a knife to the steak house. We go to a local restaurant every Wednesday night, and have for 20 years or more. A tradition. I was amused to read, or hear Mr. Russell talk about cutting a steak and cleaning his knife in a glass of water. For decades, I have done the same thing, usually cleaning it in my iced tea glass and wiping it with a napkin. It gets some looks, but is fun to do, and effective enough until I get home and clean it with dishwashing detergent. The K12 is the best feeling knife I have ever held in my hand and is my favorite for steak-eating trips. I have also explained to the waiter or waitresses that cutting a steak with a razor sharp knife lets the juice stay in your morsel of meat. The sorry restaurant knives saw instead of slice, and the juice is squished into the plate. A person owes it to himself to make the best of the opportunity. Paul S. Harriman, TN