A. G. Russell Personal Hunter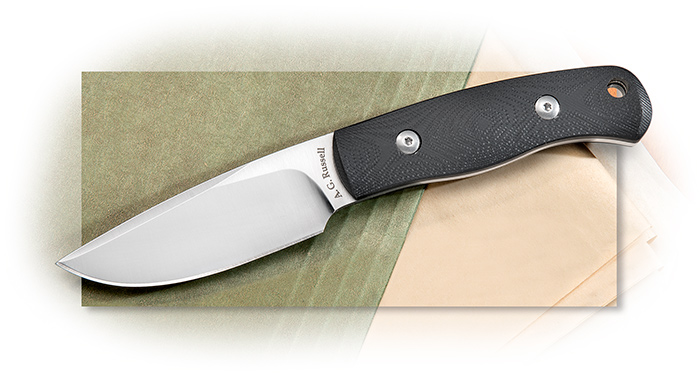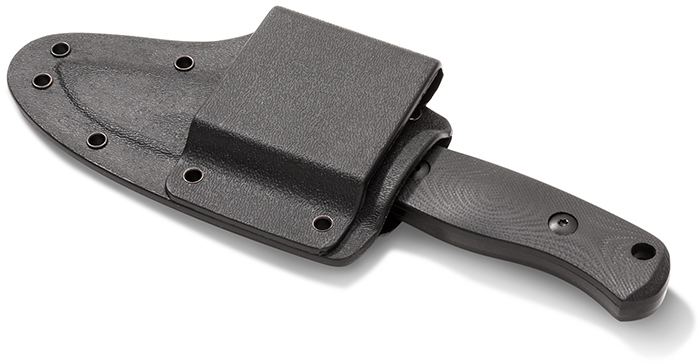 Over the past 50 years, there have been many changes in the knife world. Styles have changed, handle materials have changed, and in the past few years new blade steels are being introduced faster than most can keep up with them.
A. G. made a small Gent's Hunter in the 1970s and again in the 1990s. It was a handmade knife with a high end steel, a nickel silver guard and a handmade leather sheath. The price in the 1990s ranged from $115.00 to $175.00 for knives with handle scales of Rucarta™ or wood. A. G. designed a new small personal hunter that we had manufactured by one of the best makers in China. The 3-3⁄8" flat ground drop point blade in this new knife is D-2 steel at 60 Rc. The contoured handle scales are black G10 and we have included a fitted black Kydex® sheath. Measures 7-1⁄8" overall. The Kydex® sheath snaps on or off easily and the entire package weighs only 5.2 oz. Made in China.
Type

Fixed

Blade

Drop Point

Blade Length

3-3/8"

Finish

Satin

Blade Steel

D2

Rockwell

60-61

Handle

G-10

Tang

Full

Overall Length

7-1/8"

Weight

3.5 oz.

Sheath

Kydex

Origin

China
A.G. Russell Knives
From the age of nine I made homemade knives until I was about twenty-four when I began to make handmade knives, crude but no longer made at home. A few years later, I had met and learned from makers like R.W. Loveless and R. L. Dozier. I made knives until the mid 1970s. I don't make handmade knives anymore, as my hands aren't what they used to be. However, I do have very talented makers in the United States and Japan who make knives that I am proud to put my name on. I design pocketknives, one hand knives, lockbacks, and fixed blade knives and have them made to our standards. ~A.G. Russell III
A.G. Russell has been in the knives and whetstones business for over 50 years. A.G. Russell knives are well known for their quality. A.G. Russell knives tend to be more traditional in style and look, with modern advances in material and design to create excellent knives.
I'm a long-time AGR & Russell's for Men Customer. I ordered a AG Russell "Personal Hunter" to be a gift, but when it got here & I saw how nice it was, I ordered another for myself. This is a well-made very practical all-around sheath knife and an excellent value. I usually keep a few knives around to use as gifts; the Russell Catalog knives are very great values. I also like the small Boker "Genteman's Pocket Knives, have in several handle scale types and use some of them for gifts, too. Changes: Nothing at all. Perhaps a leather sheath option would be nice. I'd like to add that, in this day of "cheap imports", that EVERY knife I've purchased from AG Russell over the years has been well made and carefully inspected, no matter where in the World it was manufactured. Rating: 9/10. RICHARD F. Saint Martinville, LA
I thought you might want to know about a small problem I had with your A.G. Russell Personal Hunter (RU-C1153G) that I ordered recently. The first time I wore it, the belt clip separated from the rest of the sheath, resulting in the knife/sheath falling off the belt. It seems that the problem is that the rivets that attach the clip to the sheath are the same length as the rivets that hold the rest of the sheath together, even though they're going through three layers of Kydex instead of two. Since they don't reach all the way through the third layer (the belt clip) they can't be properly rolled over to secure the clip. I'm a knifemaker and I work with Kydex frequently, so it was the work of only a few minutes to re-attach the clip. There's no need for me to take advantage if your excellent warranty. But I'm not sure whether my experience was a fluke or whether the problem extends to all the knives, so I thought you might want to know about it. Aside from this, I'm very impressed with the fit/finish and design of the knife. Anthony S. Albuquerque, NM