A.G. Russell Rancher Lockback with Deep Pocket Clip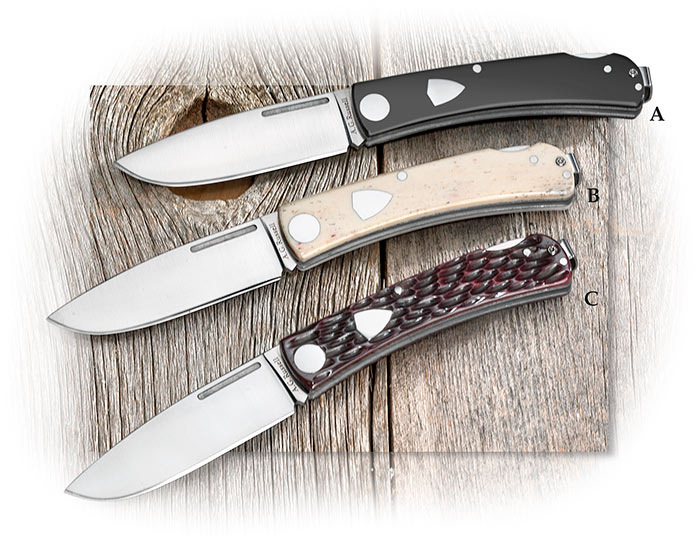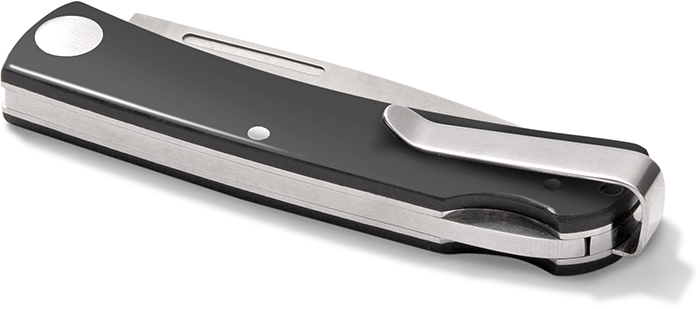 Item #:
AGLB-CX23ED
$54.95
The A.G. Russell™ Rancher is a knife that A.G. created based on the Sodbuster, a pattern that he had always admired. His favorites were always those made by Eye Brand of Solingen, Germany, sadly now gone. Sodbuster, of course, is now a Case® Cutlery trademark, so our smaller knife is the Rancher. This knife was offered in 2011 as a slip joint. As he talked to customers about those knives in our store here in Rogers, A.G. began to see the knife as a lockback with a pocket clip. He designed the new knife as an ambidextrous one-hand opening lockback with a reversible/removable pocket clip & a wider blade, all while maintaining the classic lines of the original.
The Rancher is a perfect size to do any of the jobs a rancher or a ranch foreman might be called on to do, such as cutting calves or colts, notching ears, and cutting rope or bailing twine. The 3-1/8" x 7/8" drop point blade is 3/32" thick 8Cr13MoV stainless steel at 57-59 Rc. It measures 3-5/8" closed. Weighs 2.3 to 2.5 oz. depending on the handle material. Available in brown jigged bone, ebony Delrin, or smooth white bone. Made in China.
Option A
A.G. Russell Rancher Lockback ebony delrin
Item #: AGLB-CX23ED $54.95
In Stock
Option B
A.G. Russell Rancher Lockback white bone
Item #: AGLB-CX23WB $59.95
Temporarily Unavailable
Option C
A.G. Russell Rancher Lockback jigged bone
Item #: AGLB-CX23BB $59.95
In Stock
Option A
A.G. Russell Rancher Lockback ebony delrin
Type

Folder

Blade

Drop Point

Blade Length

3-1/8"

Finish

Satin

Blade Steel

8Cr13MoV

Rockwell

57-59

Lock

Lockback

Liners

Stainless

Handle

Ebony Delrin

Closed Length

3-5/8"

Clip

Stainless

Weight

2.3 - 2.5 oz.

Origin

China
A.G. Russell Knives
From the age of nine I made homemade knives until I was about twenty-four when I began to make handmade knives, crude but no longer made at home. A few years later, I had met and learned from makers like R.W. Loveless and R. L. Dozier. I made knives until the mid 1970s. I don't make handmade knives anymore, as my hands aren't what they used to be. However, I do have very talented makers in the United States and Japan who make knives that I am proud to put my name on. I design pocketknives, one hand knives, lockbacks, and fixed blade knives and have them made to our standards. ~A.G. Russell III
A.G. Russell has been in the knives and whetstones business for over 50 years. A.G. Russell knives are well known for their quality. A.G. Russell knives tend to be more traditional in style and look, with modern advances in material and design to create excellent knives.
I just received these three knives [Sea Skorpion, Vest Pocket Semi-Skinner, Rancher Lock Back] and have given them a close inspection. They arrived a day earlier than predicted by tracking and were packed very well.
Knife people talk about "fit and finish" a lot, to indicate the quality of the product's build. All of these knives are excellent in that regard, opening easily with silky smoothness and closing dead center. Those with a spring back (Rancher and Vest Pocket Semi-Skinner) close with a nice snap. The Sea Skorpion is an open-back frame lock. It is easily opened with the thumb and one hand. The action on it, as in the other two, is smooth throughout the entire pivot and is well secured with the frame lock. The back locks on the other two disengage easily. There is no side play in any of the blades and the fit 'n finish is excellent - smooth and tightly fitted across the back springs. With the blade open, there is a smooth, precision transition from the springs into the back of the blade. There are no flaws detected in the handles. They are beautiful knives, well made, and will be a joy to use. There is no break-in period required on these models; they operate as though they've been around for a long time. I have long expected such quality from your company and am happy to see that it continues. Good job, A. G. Russell! Rating: 10/10 Paul S. Harriman, TN
After eyeing up the selection for quite some time I saw the Rancher Lockback and ordered almost immediately. I picked it in the mail today and I'm extremely pleased with the fit and finish. It opens and closes smoothly and snaps satisfyingly open. The lock engages and disengages smoothly and there is little blade play when open. The bone is quite nice in hand and there are no unpleasant edges or burrs on the liners or pins. I love the sodbuster pattern and the smart design features of this particular knife, such as the nail nick and stop pin, are excellent additions. This knife will certainly be spending quite a lot of time in pocket. Rating 9/10

Nick C. Enfield, NH