Benchmade Boost Pry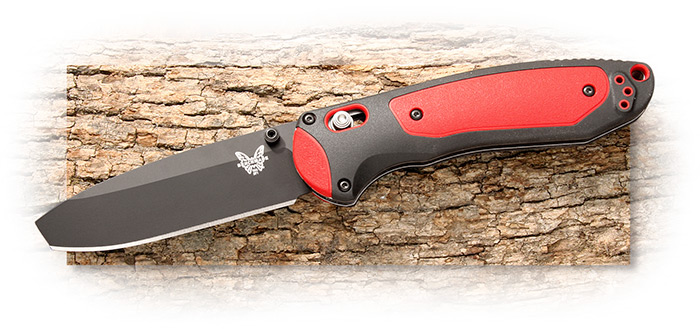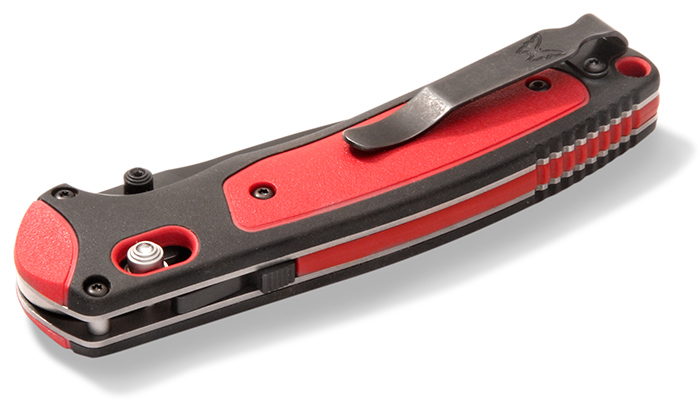 The Boost is another fast action folder from Benchmade, using the AXIS® Assist mechanism, which allows you to easily open the knife quickly and with one hand. The AXIS includes a spring that helps to fire the blade into the open position once the user pushes it beyond a certain point manually.
The 3-1⁄2" blunt pry-tip blade is CPM-3V stainless at 58-60 Rc. It is available with a plain edge and has a black coating. The Dual Durometer handles are red Grivory with a black overmolded Versaflex inset. Dual Durometer is a co-extrusion process that fuses two materials of different physical properties into one uniform or consistent cross section. Most commonly it is the combination of a rigid material (Grivory) for strength with a soft flexible material (Versaflex) for grip. The AXIS® lock also has the added benefit of "suck-back," which encourages the blade to stay in the closed position. AXIS® Assist knives also have integrated safety lock systems. The reversible pocket clip is black coated and positioned for tip-up carry. Measures 4-3⁄4" closed. Weighs 4.5 oz. Made in the U.S.A. Suggested retail is $190.00.
Type

Folder

Blade

Blunt Pry Tip

Blade Length

3-1/2"

Finish

Black Coated

Blade Steel

CPM-3V

Rockwell

58-60

Lock

Axis

Liners

Stainless

Handle

Grivory/Versaflex

Closed Length

4-3/4"

Clip

Reversible/Tip-Up

Weight

4.5 oz.

Origin

USA
Benchmade Knives
Benchmade is an excellent company making excellent, premium knives. They have a very loyal customer base, and you can always count on the quality of a Benchmade. They employ a simple philosophy - "Make it cool, make it solid, make it happen, and definitely make it Benchmade." They are on the cutting edge of all the advanced machining technologies, and are always researching how to improve their manufacturing process. Benchmade knives offer free lifetime sharpening, and they never use less than premium steels.