Benchmade Triage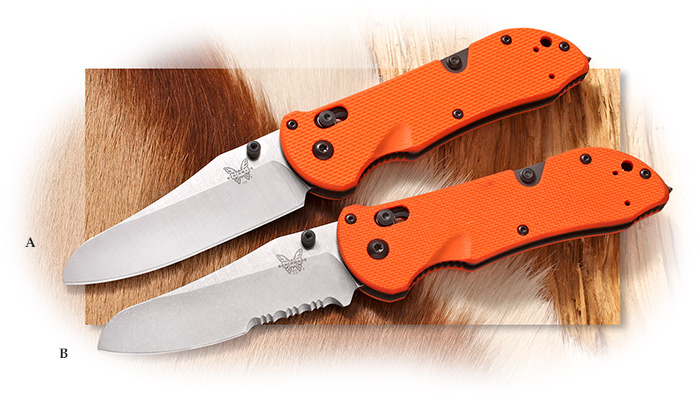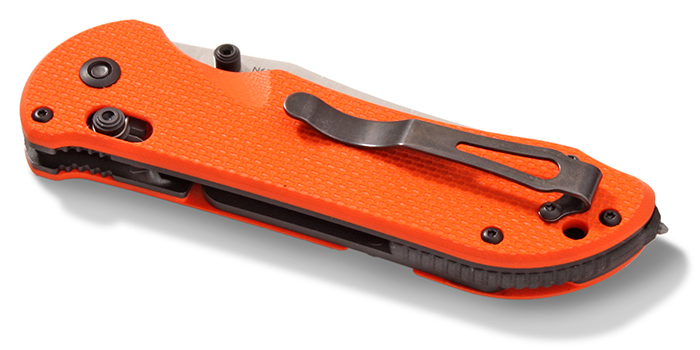 Item #:
BE-915SORG
$135.00
The Triage knife is a compact folder designed for emergency/rescue workers. This handy knife is built to be readily accessible and to safely cut near people in high intensity situations. The blade is a modified sheepfoot style blade of corrosion-resistant N680 steel. The textured G-10 handle scales give you a solid grip in any condition. The safety cutter is made of 440C stainless steel. Features a window tip breaker.
The 3-1/2" blade has a hardness of 57-59 Rc, comes with a plain edge or combo edge and either a non-reflective black coating or a satin finish. The black G-10 handle measures 4-3/4" closed. Includes a tip-up carry pocket clip that is reversible and removable. Weighs 5.2 oz. Made in the USA. Suggested retail is $180.00.
Option B
Benchmade Triage Orange combo edge
Item #: BE-915SORG $135.00
IN STOCK
Option A
Benchmade Triage Orange plain edge
Item #: BE-915ORG $135.00
ONLY 1 LEFT
Option A
Benchmade Triage Orange plain edge
Type

Folder

Blade

Sheepsfoot

Blade Length

3-1/2"

Blade Steel

N680

Rockwell

57-59

Lock

Axis

Handle

Orange G-10

Closed Length

4-3/4"

Clip

Reversible/Removable

Weight

5.2 oz.

Origin

USA
Benchmade Knives
Benchmade is an excellent company making excellent, premium knives. They have a very loyal customer base, and you can always count on the quality of a Benchmade. They employ a simple philosophy - "Make it cool, make it solid, make it happen, and definitely make it Benchmade." They are on the cutting edge of all the advanced machining technologies, and are always researching how to improve their manufacturing process. Benchmade knives offer free lifetime sharpening, and they never use less than premium steels.