Benchmade Turret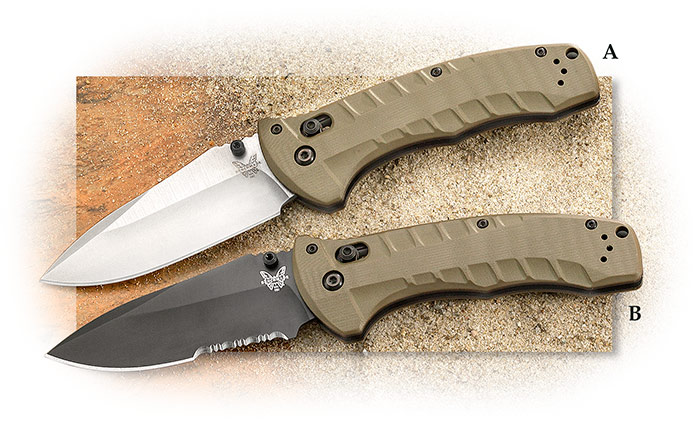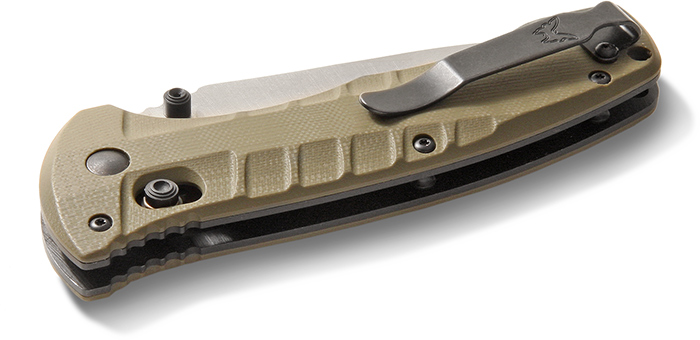 The Turret™ is a very large AXIS® lock folder which Benchmade claims is one of the strongest locks ever made. The AXIS® lock gets its function from a small, hardened steel bar that rides forward and back in a slot machined into both steel liners. The bar extends to both sides of the knife, spans the liners, and is positioned over the rear of the blade. It engages a ramped tang portion of the blade when it is opened. Two omega-style springs, one on each liner, give the locking bar its inertia to engage the knife tang. As a result, the tang is wedged solidly between a sizable stop pin and the AXIS® bar itself. The AXIS® lock has the added benefit of "suck-back" (bias to closure), which encourages the blade to stay in the closed position.
The 3-5⁄8" drop point blade is CPM-S30V stainless at 58-60 Rc. available in either a plain edge with a stonewash finish or combination edge with a black Cerakote® coating. The handle is built with olive drab G-10 scales over black Cerakote® stainless liners. A reversible black coated stainless steel pocket clip is positioned for tip-up deep-pocket carry. Measures 4-7⁄8" closed. Weighs 5.8 oz. Made in the U.S.A. Suggested Retail is $220.00 for stonewash and $235.00 for black blade.
Option A
Benchmade Turret stonewash plain edge
Item #: BE-980 $187.00
In Stock
Option B
Benchmade Turret black combo edge
Item #: BE-980SBK $199.95
In Stock
Option A
Benchmade Turret stonewash plain edge
Type

Folder

Blade

Drop Point

Blade Length

3-5/8"

Finish

Stonewashed

Blade Steel

CPM-S30V

Rockwell

58-60

Lock

Axis

Liners

Stainless

Handle

G-10

Closed Length

4-7/8"

Clip

Reversible/Tip-Up

Weight

5.8 oz.

Origin

USA
Option B
Benchmade Turret black combo edge
Benchmade Knives
Benchmade is an excellent company making excellent, premium knives. They have a very loyal customer base, and you can always count on the quality of a Benchmade. They employ a simple philosophy - "Make it cool, make it solid, make it happen, and definitely make it Benchmade." They are on the cutting edge of all the advanced machining technologies, and are always researching how to improve their manufacturing process. Benchmade knives offer free lifetime sharpening, and they never use less than premium steels.