Bob Dozier Chute Knife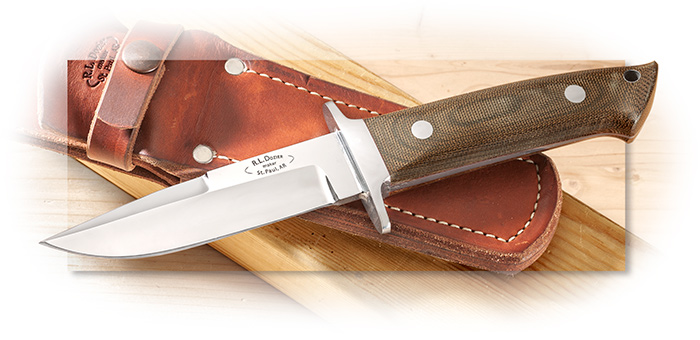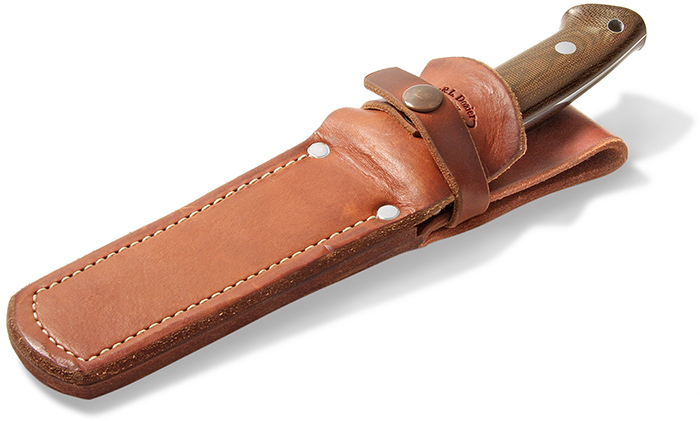 Item #:
DKSP-T20GCM
$895.00
Inspired by Bob Loveless and Harry Archer
R.L. (Bob) Dozier was the knifemaker behind the first A.G. Russell and Morseth Chute Knives. A.G. and Bob Loveless both were inspired by Harry Archer to design these knives. They were all friends. You will see great similarities between A.G.'s Chute knives and Loveless Chute Knives, but you will also see differences. For example, A.G. included a hole in each end of the double guard, Loveless did not. A.G.'s early A.G. Russell and Morseth Chute Knives used narrow tang construction with a very distinctly shaped solid handle. Loveless knives were full tang with applied handle scales.
A.G. made this statement in 2003 regarding a "chute" knife he designed for Dietmar Kressler to make for him. "Harry Archer could well have been the pattern for Mr. Clark, the ubiquitous CIA problem solver in Tom Clancy's novels. On the Yalu at 17, Harry came home, got an education and had an exciting, if short, life (he died before he was 60). Harry worked for the United States, he spent a lot of time in the jungle teaching jungle combat and survival skills to American soldiers and soldiers of other countries as well. Harry loved knives -well made knives. In his lifetime he was probably Loveless' #2 or #3 customer. He was a strong influence on the design of custom combat knives and his design for the "Chute" knife is classic."
Bob Loveless was the first to make a knife based on what Harry had in mind. Bob is quoted in a post on Blade Forums on March 30 , 2008. "I invented the concept, I want to say in 1967 or 1968, in response to Harry Archer's requests. He described what he wanted; a knife that could serve him well in semi-tropical and tropical jungle areas as a survival knife and weapon. He wanted something that could be used for self-defense or as an offensive weapon, and a knife that could be lashed onto the end of a long pole for killing small game." "So, who was Archer? Harry never disclosed what his duty was, and I never asked him. His work was with an agency that operated in adjunct with the Special Forces. Archer's chute knife was meant to be a tool to help in a survival situation, and specifically to be lashed to the top of a chest pack, a chest chute; secondary parachute: so Harry could get at it quickly in case he got hung up in a tree after parachuting out of an airplane."
This Bob Dozier Chute Knife nods to the Loveless style; no holes in the guard, full tang construction and the typical Bob Loveless Green Canvas Micarta handle scales. In the beginning, Loveless would probably have used A2 blade steel, later popularizing the use of 154-CM and ATS-34 stainless. Bob has used D2 in this knife, the blade steel which he uses extensively. Because of Bob, D2 has become one of the most often used blade steels today.
The 4-3/4" mirror polished blade of D2 at 59-61 Rc. is a clip point with a strong swedge. The blade is 3/16" thick and measures 1-1/16" at the guard. The full, strongly tapered tang supports handle scales of Loveless' favorite handle material – Green Canvas Micarta. Measures 9-3/4" tip to butt. Weighs 8.5 oz., 13.8 oz. in the sheath. The solidly built leather sheath is made by Bob himself. Bob's handmade leather sheaths are the best to be found anywhere. Knife and sheath are both handmade in Bob's shop in St. Paul, Arkansas.
Type

Fixed

Blade

Clip Point

Blade Length

4-3/4"

Finish

Mirror Polish

Blade Steel

D2

Rockwell

59-61

Hilt Guard

Stainless

Handle

Micarta

Tang

Tapered

Overall Length

9-3/4"

Weight

8.5 oz.

Sheath

Leather

Origin

USA
Dozier Arkansas Made
Bob Dozier made his first knives when he was only twelve or thirteen years old. He told me the other day that after those few knives, he did not make another until he was about twenty-three and working as a rough neck in the oil fields in Louisiana. He talked about that first simple knife and then told a story about a co-worker asking to come to watch him make knives. Bob had made several knives by then and had created a small rough shop. He said the man stayed and watched until the knife was finished which took most of the day. When it was finished, he asked to look at it. After handling it for a while, he asked Bob how much he wanted for it. Without giving it any thought, Bob says he said $12.50. The man pulled out twelve one dollar bills and two quarters, laid them on the bench, got in his truck and left. Bob went in the house and told his wife he had just sold a knife which took him most of the day to make for $12.50. But, he told me, at that moment he knew he was going to be a knifemaker. That was about 1963.
If you had the opportunity to look through Bob's collection of his old knives, you would find that he has made many different kinds of knives; hunters, Bowies and fighters, and more recently folders. You can definitely see a relationship between a pair of fighting knives he made in those early years and the practical, utilitarian fighters that began to appear from handmade knifemakers and knife manufactures from the late 1960s and became tremendously popular during the Viet Nam War era. These knives used to be called fighting knives. Today they are called Tactical Knives.