Bob Dozier Loveless Style Dagger Green Canvas Micarta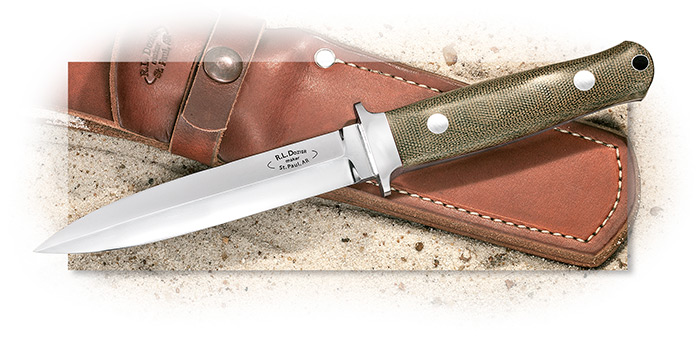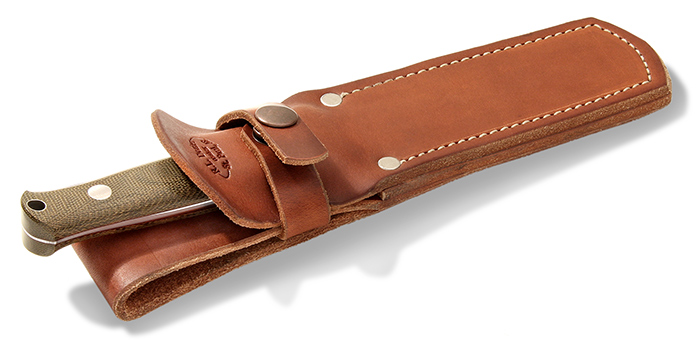 Item #:
DKSP-T19GCM
$895.00
Bob Dozier came into the knifemaking world at about the same time that Bob Loveless did. A.G. called them the two Bob's and often said that he learned more about knifemaking from these two men than all the rest put together. Bob Dozier greatly respected Loveless' knifemaking and especially his knife designs. That respect is captured in the Loveless style knives he has made over the past several years beginning with the drop point hunter.
Bob began making his version of the Loveless fighter with green canvas Micarta® handle scales for us in late 2018. This material, along with India Stag, was Loveless' most used handle material. That knife is still available. Now Bob has made his version of a lesser well-known Loveless model – a dagger. Many, even Loveless collectors, have never seen this model. There was at least one in the Al Williams collection as recorded on page 85 in Living on the Edge – Logos of the Living Legend, a book by Al Williams and Jim Weyer. There are also at least two in the John Denton collection as recorded in his new book.
The Dozier knife is pretty true to the originals. You would need either one of each of the knives or really good photographs, to notice any differences except in the marks. The 5-1/8" dagger style blade in the Dozier knife is D2 with the special Dozier heat treat at 60-61 Rc. The blade is double ground, sharpened only on one edge. The full tapered tang supports green canvas Micarta® scales. The guard is 303 stainless. Measures 9-1⁄2" tip to butt. Knife and brown leather sheath both made in St. Paul, Arkansas.
If a Dozier knife is not in stock when you order, delivery typically takes 3 to 4 months.
Type

Fixed

Blade

Dagger

Blade Length

5-1/8"

Blade Steel

D2

Rockwell

60-61

Hilt Guard

Stainless

Handle

Micarta

Tang

Full

Overall Length

9-1/2"

Sheath

Leather

Origin

USA
Bob Dozier Knives
These knives are made directly by Bob Dozier himself in his shop in St. Paul, Arkansas.