Bob Dozier Loveless Style Fighter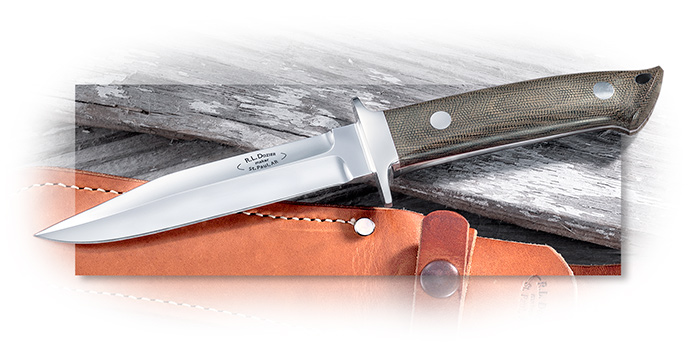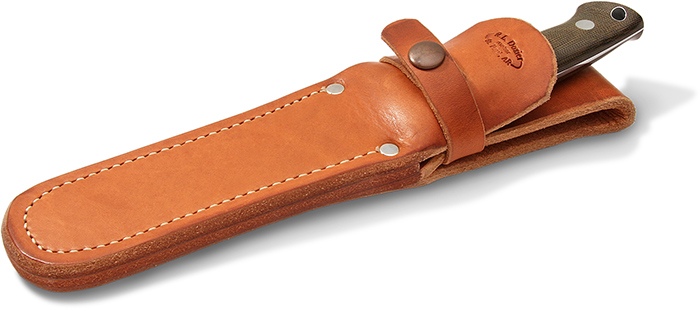 Item #:
DKSP-T68GCM
$895.00
Green Canvas Micarta
"In the nearly 50 years that I have been in this business, I have been impressed by many knifemakers, but none have had more impact on my mind and career than the two Bobs. In the 1960s and 1970s, I learned more about knifemaking from these two men than I had learned in the previous 20 years of work and study. Dozier has talked for years about the debt owed to Loveless by the knifemaking community. Most of today's knifemakers are unaware of their legacy, yet the two makers who they most often copy (even if the maker is unaware of the original source) are Robert W. Loveless and Robert L. Dozier, the first for his magnificent designs and the second for his very basic, hunter oriented, simple knives." You have heard me say this many times and will probably hear it many more.
This Dozier Fighter is based on what has become a classic fighter design first introduced by Bob Loveless close to 50 years ago. Bob tells me that his intention is to continue making the simple knife designs that Loveless started in the late 1960s – no wildly shaped blades, just simple lines and impeccable workmanship. The 5-1⁄8" clip point blade is Powder Metal D2 at 60-61 Rc. Bob chose powder metal for the fine finish he can get and D2 for the aggressive cut. The handle scales are Green Canvas Micarta®, Loveless's favorite and most used handle material which are attached with stainless bolts. Has a full tapered tang and double hilt of 303 stainless. Measures 9-3⁄4" from tip to butt. Weighs 6.6 oz. The sheath is hand made by Dozier of a quality to match the knife and is based on sheaths designed and used by Loveless. Knife and sheath are both made in St. Paul, Arkansas. If a Dozier knife is not in stock when you order, delivery typically takes 3 to 4 months.
Type

Fixed

Blade

Clip Point

Blade Length

5-1/8"

Finish

Satin

Blade Steel

D2

Rockwell

60-61

Hilt Guard

303 Stainless

Handle

Green Micarta

Tang

Full

Overall Length

9-3/4"

Weight

6.6 oz.

Sheath

Leather

Origin

USA
Bob Dozier Knives
These knives are made directly by Bob Dozier himself in his shop in St. Paul, Arkansas.