Boker Barlow-High Carbon Blade Steel & Stag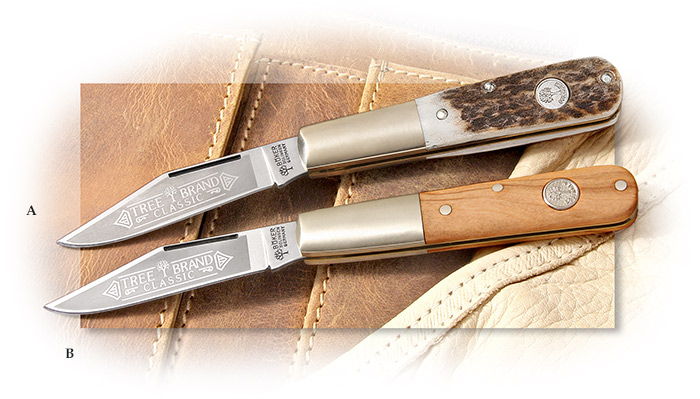 An A. G. Russell™ Exclusive
Boker® is one of just a few companies that can work with non-stainless high carbon steel these days with consistent quality and without rust problems. This particular model in these handle materials is an A.G. Russell™ exclusive.
The C-75 high carbon steel is hardened to 56-58 Rc., and will hold a razor edge, just like your grandpa's pocketknife did. The 2-1⁄2" clip point blade is mirror polished which gives a bit of protection against rust, but is not stainless. If you would like added protection, our RustFree™(RF125-$7.95) will help protect the blade once it is clean and dry. The liners are brass and the bolsters and shield are nickel silver. Measures 3-3⁄8" closed. Weighs 2.0 oz. Made in Germany.
Option A only.
Type

Folder

Blade

Clip Point

Blade Length

2-1/2"

Blade Steel

C-75

Rockwell

56-58

Lock

Slip Joint

Bolsters

Nickel Silver

Liners

Brass

Pattern

Barlow

Handle

Stag

Closed Length

3-3/8"

Weight

2.0 oz.

Origin

Germany
Böker Knives
From their beginnings in Remscheid, Germany more than 100 years ago, Böker "Treebrand" has survived countless hardships and has become the leading pocket knife maker in Europe. The chestnut tree that once grew near Böker's German factory represented an ideal symbol, and thus the "Treebrand" label was born. Today, the Böker "Treebrand" label represents a continued drive for higher quality and craftsmanship. Böker manufactures high quality pocket and hunting knives for sportsmen and collectors.
I like stag or bone handles, and have started to collect knives with white bone. It's my chosen poison of the moment. I recently purchased a couple of the white bone Boker Barlow models you offered and gave one away as a gift. It went over extremely well. The A.G. Russell K-12 One Hand Knife is another of my favorites to take to the steak house. I have it in white bone. The waiter has taken an interest in it so I need to be sure to put it back in my pocket. This note is running too long, but I can't help but tell you something with respect to carrying a knife to the steak house. We go to a local restaurant every Wednesday night, and have for 20 years or more. A tradition. I was amused to read, or hear Mr. Russell talk about cutting a steak and cleaning his knife in a glass of water. For decades, I have done the same thing, usually cleaning it in my iced tea glass and wiping it with a napkin. It gets some looks, but is fun to do, and effective enough until I get home and clean it with dishwashing detergent. The K12 is the best feeling knife I have ever held in my hand and is my favorite for steak-eating trips. I have also explained to the waiter or waitresses that cutting a steak with a razor sharp knife lets the juice stay in your morsel of meat. The sorry restaurant knives saw instead of slice, and the juice is squished into the plate. A person owes it to himself to make the best of the opportunity. Paul S. Harriman, TN