Browning Black Label Stick-It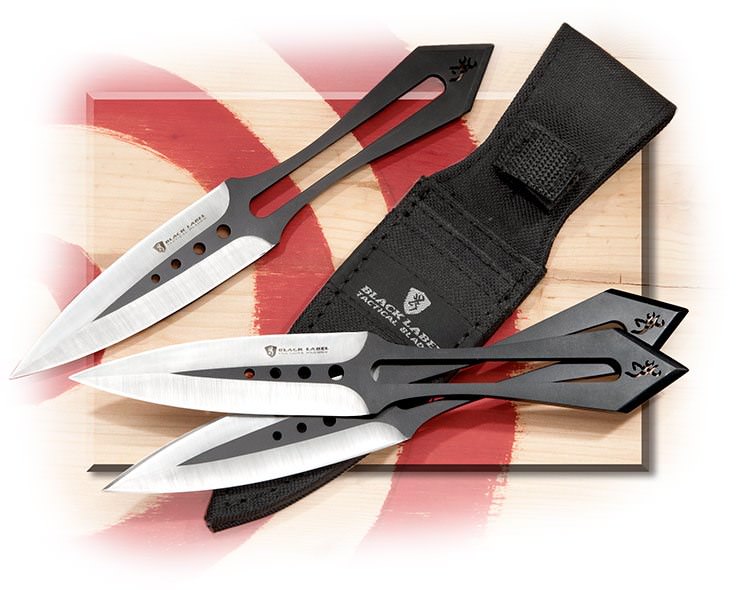 Throwing Knife Set
Whether you are in a back yard competition or practicing by yourself, this Browning Black Label throwing knife set will provide you with some of the most fun you've ever had. Designed by Custom Knifemaker Russ Kommer with input from edged-weapon instructor Jared Wihongi, it is perfect for either the aficionados or the novice of the sport.
These double edge throwing daggers are crafted of 3Cr13MoV stainless steel at 51-52 Rc., and are very well balanced to hit hard and penetrate deep. The 4-1/8" blades have a satin finish with black accents. The handles are shaped like an hourglass to provide a firm, confident grip. Set includes three throwing knives and a black nylon sheath. Each thrower measures 8-5/8" overall and weighs 2.7 oz. Made in China. Suggested Retail is $60.00.
Type

Throwing

Blade

Double Edged Dagger

Blade Length

4-1/8″

Blade Steel

3Cr13MoV

Rockwell

51 - 52

Handle

Bare

Overall Length

8-5/8″

Weight

2.7 oz.

Origin

China
Browning
Browning is the firearms manufacturer many customers know and love, but what many people didn't know is that Browning has over half a century of knife making expertise. Browning has built a partnership with famed custom knife maker/designer Russ Kommer. Through this partnership Browning knives have reached a new level in quality and functionality.