Buck BuckLite PakLite Combo Set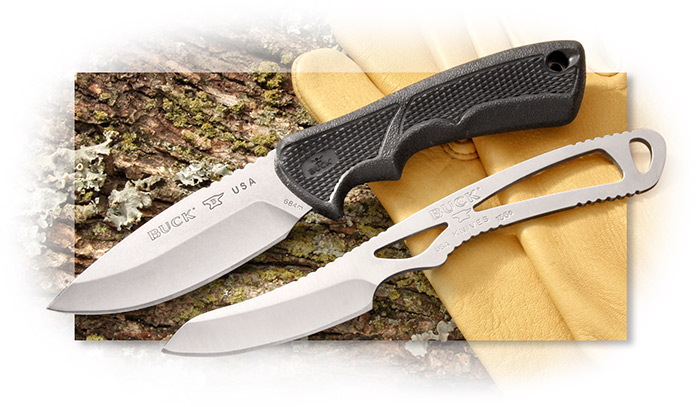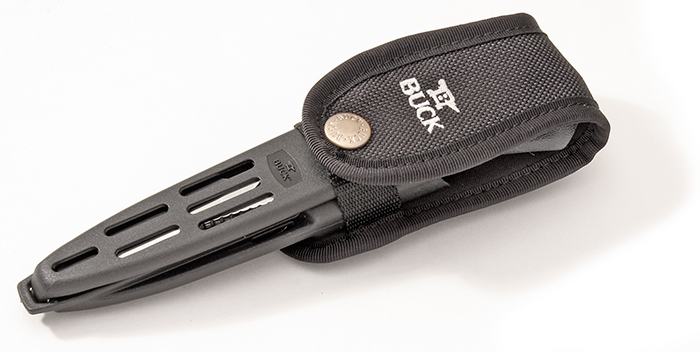 Buck has created a combination pack that is the perfect blend of tools designed for your next hunting excursion. The features of the PakLite & BuckLite line of knives were designed specifically with hunters in mind. Essential to any hunter's gear, this set includes a skinner and caper that stores away in a sheath. The hard plastic section of the sheath unsnaps from the nylon belt loop and can be cleaned in the dishwasher.
The BuckLite is a heavy duty skinning knife that features an ergonomic handle that is constructed out of Dynaflex® rubber for superior grip, performance, and is light weight. The blade has been tumbled finished, for a less porous, improved corrosion resistance. The PakLite Caper's modified blade allows for precise, detailed work, with ultimate control.
The BuckLite blade is 3-1/8" in length with a overall length of 7-1/2" and weighs 2.8 oz. The caper knife blade is 2-5/8" in length with a overall length of 6-3/4" and weighs 1.3 oz. Both knives have a hardness of 58 Rc. Made in the USA. Suggested retail $60.00.
Type

Fixed

Blade

Drop Point

Blade Length

3-1/8"

Finish

Tumbled

Blade Steel

420HC

Rockwell

58

Handle

Dynaflex Rubber

Overall Length

7-1/2"

Weight

2.8 oz.

Sheath

Nylon

Origin

USA
Buck Knives
Buck Knives has been around for a very long time. In fact, Buck Knives was just switching from handmade knives out of a Southern California Garage to factory made knives about the same time we began the A.G. Russell ™ Knife mail order business. Over the past half century buck has become one of the largest and most important knife companies in the world. They are so well known, in some parts of the country pocketknives are referred to as "Buck Knives."