Buck Nighthawks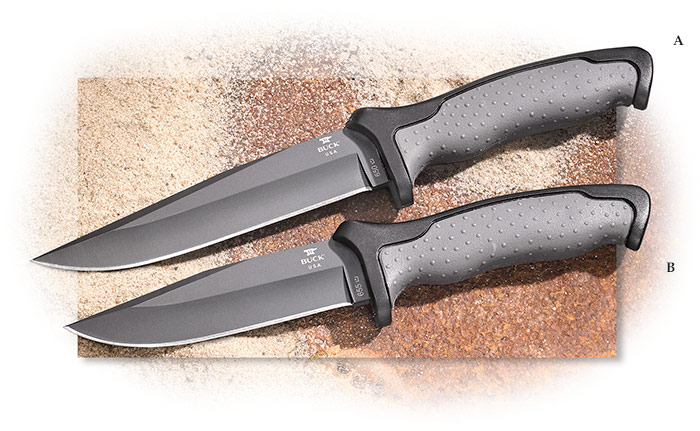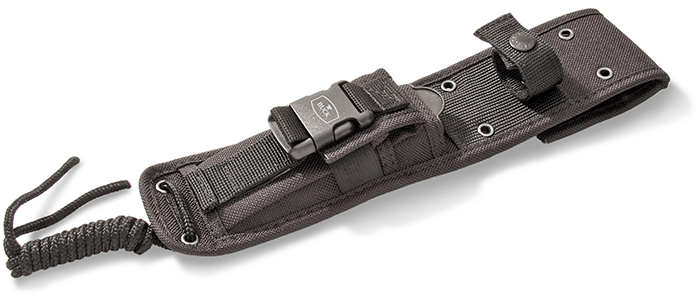 I'm not sure of the year, but the original Nighthawk was Buck's entry in the Navy Seals Knife Sweepstakes. The knife was engineered to meet the exacting standards of the U.S. Navy Seals. In 2019, Buck updated the design with modern materials and the same workmanship you have come to expect from Buck. The blades are 420HC stainless at 58-60 Rc. with a Cerakote® coating which Buck calls Sniper Grey. Each knife ships with a heavy-duty Polypropylene, MOLLE compatible sheath with a front-carry pouch for accessories. Both knives are made in the U.S.A.
Option A
Buck Nighthawk Fixed Blade Knife - Large
The large Nighthawk has a 6-1⁄4" modified clip point blade. It measures 11-1⁄4" overall. Weighs 9.9 oz. Suggested retail is $140.00.
Item #: BU650GYS $109.95
In Stock
Option B
Buck Nighthawk Fixed Blade Knife - Small
The modified clip point style blade measure 5-1/8". Measures 10-1/8" overall and weighs 9.3 oz. Made in the USA. Suggested retail $120.00.
Item #: BU655GYS $94.95
In Stock
Option A
Buck Nighthawk Fixed Blade Knife - Large
Type

Fixed

Blade

Clip Point

Blade Length

6-1/4"

Finish

Cerakote

Blade Steel

420HC

Rockwell

58-60

Handle

Nylon

Overall Length

11-1/4"

Weight

9.9 oz.

Sheath

Polypropolyene

Origin

USA
Option B
Buck Nighthawk Fixed Blade Knife - Small
Type

Fixed

Blade

Clip Point

Blade Length

5-1/8"

Blade Steel

420HC

Rockwell

58-60

Handle

Nylon

Overall Length

10-1/8"

Weight

9.3 oz.

Sheath

Polypropolyene

Origin

USA
Buck Knives
Buck Knives has been around for a very long time. In fact, Buck Knives was just switching from handmade knives out of a Southern California Garage to factory made knives about the same time we began the A.G. Russell ™ Knife mail order business. Over the past half century buck has become one of the largest and most important knife companies in the world. They are so well known, in some parts of the country pocketknives are referred to as "Buck Knives."