Buck - Remington Set Folders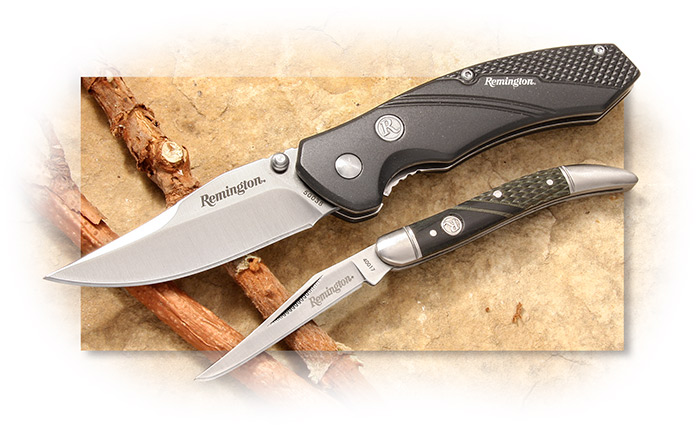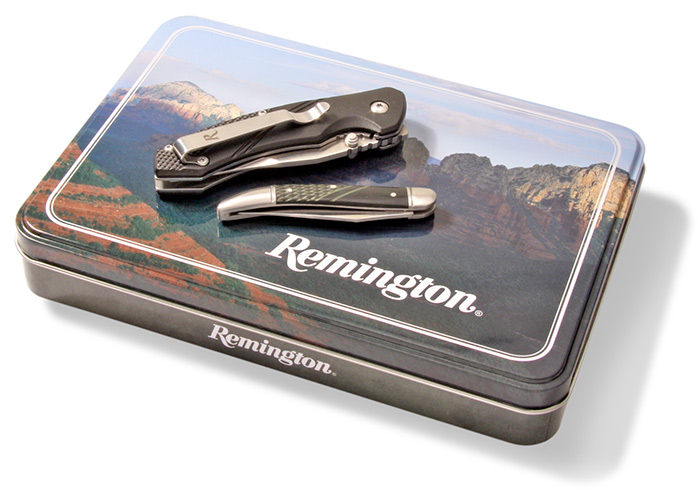 In 2017 Buck Knives partnered with Reminton Outdoor to produce knives under the Remington line. The Remington name is one of the most recognized names in the outdoor and hunting industry. In 1920, Remington Arms Co. entered the cutlery industry, quickly claiming a spot as one of the top knife manufacturers in the nation. Quality has always been a primary focus. Designed to carry on Remington traditions, these knives are a trusty and reliable tool which will serve you well for many years.
This two set includes a clip point hunter and a toothpick. Both knives feature blades made from 420J2 stainless steel with a hardness of 57-59 Rc. Both have black handle scales. The clip point hunter blade measures 2-3/8" with a closed length of 3-7/8". The black coated aluminum handle has stainless steel liners and a pocket clip. The toothpick long clip blade measures 2-1/4" with a closed length of 3". The black jigged handle features stainless steel liners and bolsters. Both of the knives come in a metal tin. Made in the USA.
Type

Folder

Blade

Clip Point

Blade Length

2-3/8" - 2-1/4"

Finish

Satin

Blade Steel

420J2

Rockwell

57-59

Lock

Liner-style

Bolsters

Stainless

Liners

Stainless

Closed Length

3-7/8" - 3"

Clip

Tip-up

Origin

China
Buck Knives
Buck Knives has been around for a very long time. In fact, Buck Knives was just switching from handmade knives out of a Southern California Garage to factory made knives about the same time we began the A.G. Russell ™ Knife mail order business. Over the past half century buck has become one of the largest and most important knife companies in the world. They are so well known, in some parts of the country pocketknives are referred to as "Buck Knives."