Buck Sprint Pro Folders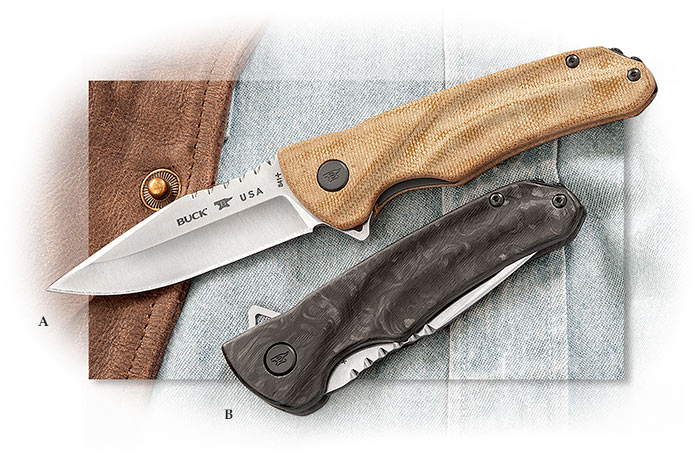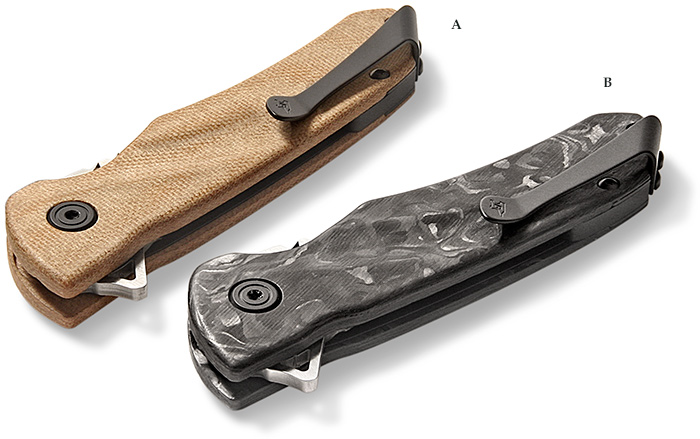 Buck's Sprint Pro folders utilize a flipper along with ball-bearing technology, which reduces friction for rapid blade deployment. Each blade goes through a rigorous heat-treatment process pioneered by Paul Bos. Blades are then tempered to the appropriate Rockwell hardness through heating, freezing and reheating. This gives you a longer edge life, ease of resharpening and a blade that will not fail you.
The Sprint Pro has a 3-1⁄8" drop point plain edge blade and handle scales of either Natural Canvas Micarta or Marbled Carbon Fiber. With Micarta, the blades are S30V stainless at 59-61 Rc. The version with Carbon Fiber has a blade of S45VN stainless, also at 59-61 Rc. All are liner-locks with black coated steel liners and reversible tip-up pocket clip with a black Cerakote coating. Measures 4-3⁄8" closed. Each weighs about 3.3 oz. Made in the U.S.A. Suggested retail is $190.00 for the Micarta and $250.00 for the Carbon Fiber.
Option A
Buck Sprint Pro Folders Micarta
Item #: BU841NCM $144.95
In Stock
Option B
Buck Sprint Pro Folders Carbon Fiber
Item #: BU841CFS2 $199.95
In Stock
Option A
Buck Sprint Pro Folders Micarta
Type

Folder

Blade

Drop Point

Blade Length

3-1/8"

Finish

Satin

Blade Steel

S30V

Rockwell

59-61

Lock

Liner-style

Liners

Steel

Handle

Micarta

Closed Length

4-3/8"

Clip

Reversible/Tip-Up

Weight

3.2 oz.

Origin

USA
Option B
Buck Sprint Pro Folders Carbon Fiber
Type

Folder

Blade

Drop Point

Blade Length

3-1/8"

Finish

Satin

Blade Steel

S45VN

Rockwell

59-61

Lock

Liner-style

Liners

Steel

Handle

Carbon Fiber

Closed Length

4-3/8"

Clip

Reversible/Tip-Up

Weight

3.3 oz.

Origin

USA
Buck Knives
Buck Knives has been around for a very long time. In fact, Buck Knives was just switching from handmade knives out of a Southern California Garage to factory made knives about the same time we began the A.G. Russell ™ Knife mail order business. Over the past half century buck has become one of the largest and most important knife companies in the world. They are so well known, in some parts of the country pocketknives are referred to as "Buck Knives."