Buck Vanguard Legacy Collection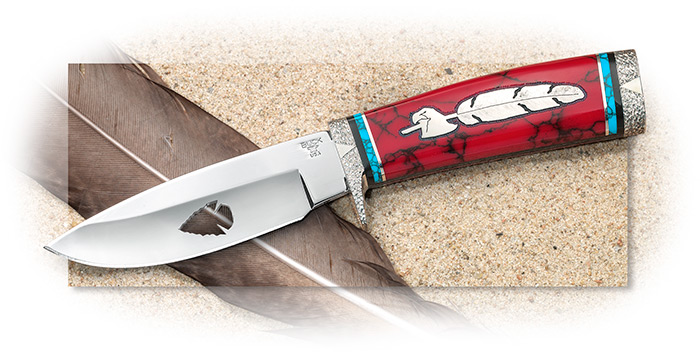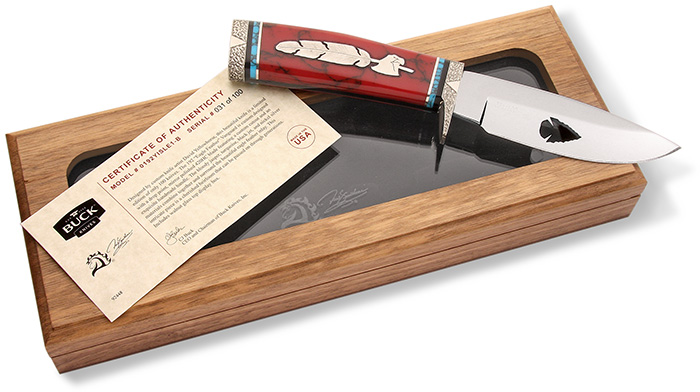 Item #:
BU192YISLE
$579.95
Limited to 100 Pieces
The Vanguard was Buck's answer to the Loveless Drop Point Hunter. When it was first introduced, variations of Bob Loveless' knife were sweeping the world of handmade knives. The Drop Point became the accepted standard for hunting knife blade shapes. In the years since the Vanguard was introduced, there have been many with different handle materials, different decorative cuts through the blades and other limited edition variations, even a few A. G. Russell exclusives, which have sold out quickly. The Vanguard is probably one of Buck's most popular hunting knives. Just about every year, you will find one as a part of Buck's Legacy series, including this 100 piece limited edition.
David Yellowhorse has been embellishing knives for well over 30 years. Many of those were Buck knives. This year his Vanguard Eagle Feather is a part of the Legacy Series. The handle is created from bloody jasper with a nickel silver eagle feather inlay on the obverse and reverse sides. There are turquoise, black jet and nickel silver spacers at the hilt and at the butt. The butt cap and the guard are carved nickel silver.
The 4-1/8" drop point mirror polished blade is 420HC stainless at 58-60 Rc. with an arrowhead cutout. Measures 8-3⁄8" overall. Weighs 6.8 oz. Ships with a Certificate of Authenticity and a glass top walnut display case. Each knife is serial numbered and signed by the artist on the reverse side of the blade. (Sorry. no choice of number.) Made in the U.S.A. Suggested retail is $725.00.
Type

Fixed

Blade

Drop Point

Blade Length

4-1/8"

Finish

Mirror Polish

Blade Steel

420HC

Rockwell

58-60

Hilt Guard

Nickel Silver

Butt Cap

Nickel Silver

Handle

Bloody Jasper/Turquoise/Black Jet

Overall Length

8-3/8"

Weight

6.8 oz.

Origin

USA
Buck Knives
Buck Knives has been around for a very long time. In fact, Buck Knives was just switching from handmade knives out of a Southern California Garage to factory made knives about the same time we began the A.G. Russell ™ Knife mail order business. Over the past half century buck has become one of the largest and most important knife companies in the world. They are so well known, in some parts of the country pocketknives are referred to as "Buck Knives."