Buck White Buffalo Folding Kalinga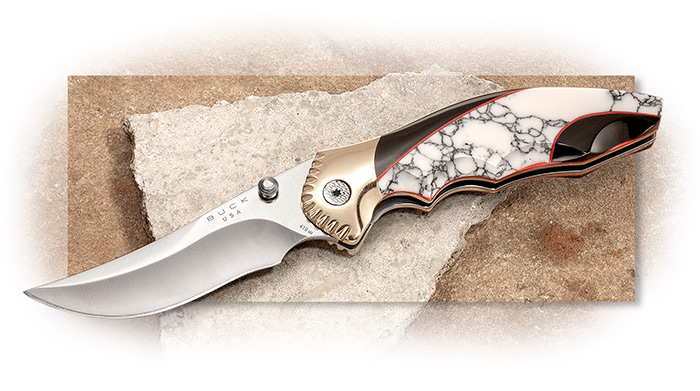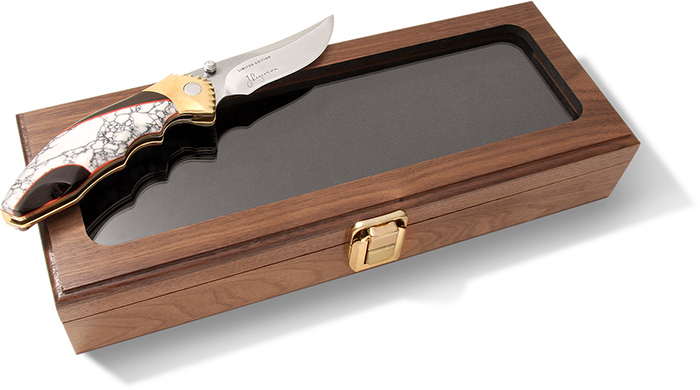 Item #:
BU419BFSLE
$430.00
Limited to 100 Serial Numbered Knives
The original fixed blade Kalinga (1969) was a favorite of Al Buck. With a large sweeping skinner blade and an ergonomic handle design, the Kalinga has become a favorite among knife enthusiasts as well. Because of that, a few years ago Buck introduced the folding Kalinga for those who prefer a folder instead of a fixed blade knife.
In 2018, Buck chose the Fixed Blade Kalinga as a part of their Legacy Collection as a Limited Edition of 250 pieces which sold out quickly. As a part of their 2019 Legacy Collection, they decided to create a Folding Kalinga with the same handle scales which they have limited to only 100 Pieces. The quantity they have allowed us to have is very limited so if you want to add this to your collection either as a companion piece to last year's version, or if you missed out on that one, order quickly.
Created by Buck's own Jeff Legerton, the White Buffalo Folding Kalinga has white turquoise and buffalo horn handle scales, a brass frame, brass handle spacers and a single stainless steel liner for the lock. The 4-7⁄8" upswept clip point blade is satin finished S30V stainless at 59-61 Rc., with Jeff's signature on the reverse side of the blade. Liner style lock. Measures 5-1⁄4" closed. Weighs 7.5 oz. Does not include a pouch but ships with a glass top walnut display case and a Certificate of Authenticity. Limited edition of 100 serial numbered pieces, sorry no choice of serial number. Made in the U.S.A. Suggested retail is $510.00.
Type

Folder

Blade

Skinner

Blade Length

4-7/8"

Finish

Satin

Blade Steel

S30V

Rockwell

59-61

Lock

Liner-style

Bolsters

Brass

Liners

Stainless

Handle

Turquoise/Buffalo Horn

Closed Length

5-1/4"

Weight

7.5 oz.

Sheath

Display Box

Origin

USA
Buck Knives
Buck Knives has been around for a very long time. In fact, Buck Knives was just switching from handmade knives out of a Southern California Garage to factory made knives about the same time we began the A.G. Russell ™ Knife mail order business. Over the past half century buck has become one of the largest and most important knife companies in the world. They are so well known, in some parts of the country pocketknives are referred to as "Buck Knives."