CRKT A. G. Russell Sting 3B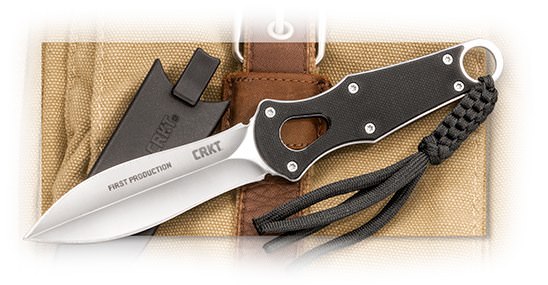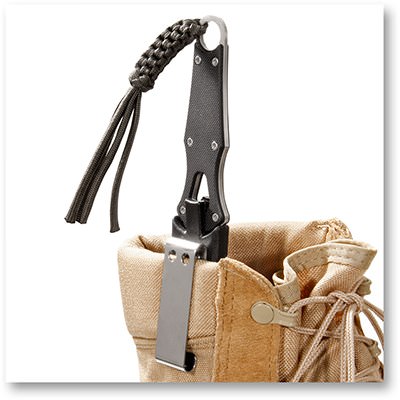 In the past year, we have sold a few thousand of the Sting 3B boot knife that I designed for Columbia River. This is a far better design than the better selling Sting 1A all steel boot knife that is also licensed to Columbia River. The Sting 3B is the slimmest, lightest, most compact boot knife that anyone has made and in my mind, by far the sharpest and most deadly you are likely to find anywhere today! The thin blade will slip easily where ever you want to put it and the wasp waisted edges are razor sharp, straight from the box. Thin enough, that in an emergency, you could wear it in your shoe under your foot for protection. The 8Cr13MoV steel is as tough as I have learned to achieve in the more than 50 years I have been in this business. It is a dagger, so you will have to be responsible to deal with the authorities if you live in places like NY, Calif or Mass. When you get yours, I suggest the first thing you do is to cut off or unbraid the thong, there are much better places to carry extra paracord. This is a knife that can be carried right side up, upside down, as a pocketknife or a neck knife. When you buy one, if it is not the best you ever used then we will pay for its return. No time limit.
A small Boot Knife, it measures 7-1/8" in overall length with a 3-3/8" blade of 8Cr13MoV high-carbon stainless at 57-59 Rc. The handle slabs are black, textured G-10. The molded sheath has a reversible spring steel belt/boot clip that when reversed can be used to place the knife upside down, clipped to the inside a jacket pocket. The knife alone weighs only 1.8 oz. Add the sheath and it weighs just 2.9 oz. Includes a braided black paracord thong that when un-braided, measures 35". Suggested retail is $59.99.
Type

Fixed

Blade

Double Edge Spear Point

Blade Length

3-3/8"

Blade Steel

8Cr13MoV

Rockwell

57-59

Handle

G-10

Tang

Full

Overall Length

7-1/8"

Weight

1.8 oz.

Sheath

Molded w/Reversible Clip

Origin

China
Columbia River Knife & Tool (CRKT)
CRKT builds serious knives, engineered to perform on the job or in the field, year in and year out. They are practical, purpose driven designs created by some of the most innovative Knifemakers' Guild members and creative designers. The result is that the finest modern knife designs are now available to you for daily use at an affordable price. We are continually impressed with how much quality CRKT can fit into a very reasonable price.