CRKT C.S.T. Stripping Tool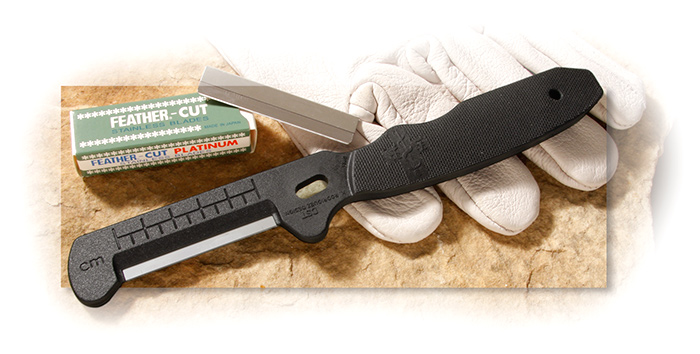 From the Manufacturer:
The idea for the CST Combat Stripping Tool was born during a deployment as a combat medic assigned to a Forward Surgical Team. During intense life-and-death situations, there were times when trauma shears simply weren't versatile enough get the job done, so Kelly L. Rodriguez designed this utility blade to pick up the slack. When everything is on the line, the CST Combat Stripping Tool is the new solution.
As an active duty soldier, and a veteran of the Afghanistan and Iraq wars, Kelly L. Rodriguez designed the CST Combat Stripping Tool once she returned to her hometown in North Carolina. During intense trauma situations amid sand, dirt, and blood, standard trauma shears could get gummed up and fail while she attempted to slice through a patient's clothes. The simple design of the CST Combat Stripping Tool sidesteps this problem altogether.
The flat utility blade features a strong, efficient bevel and comes with a replacement so you never have to wonder if it's sharp enough to perform. A tough polypropylene handle is designed to give you a confident grip and features a measuring scale and oxygen wrench, so when you need them, they're already in-hand. It's also made to open small packages without damaging the sometimes-fragile contents. The CST Combat Stripping Tool tucks away securely into a woven polyester MOLLE gear-compatible sheath when you're rushing to the next task.
The utility blade measures 2-1/8" and the overall length is 8". Weighs 1.5 oz. Suggested Retail $29.99.
Option
CRKT C.S.T. Stripping Tool
Item #: CL-9860 $19.95
In Stock
Option
CRKT CST Combat Stripping Tool-Blade Replacement
Set of 10 replacement blades for the C.S.T. Combat Stripping Tool. Suggested Retail $19.99.
Item #: CL-9860-10 $17.95
Low Stock, Call for Availability
Option
CRKT C.S.T. Stripping Tool
Type

Tool

Blade

Utlity

Blade Length

2-1/8"

Blade Steel

Stainless

Rockwell

56-63

Handle

GRN

Overall Length

8"

Weight

1.5 oz.

Sheath

Polyester

Origin

Taiwan
Columbia River Knife & Tool (CRKT)
CRKT builds serious knives, engineered to perform on the job or in the field, year in and year out. They are practical, purpose driven designs created by some of the most innovative Knifemakers' Guild members and creative designers. The result is that the finest modern knife designs are now available to you for daily use at an affordable price. We are continually impressed with how much quality CRKT can fit into a very reasonable price.