CRKT Provoke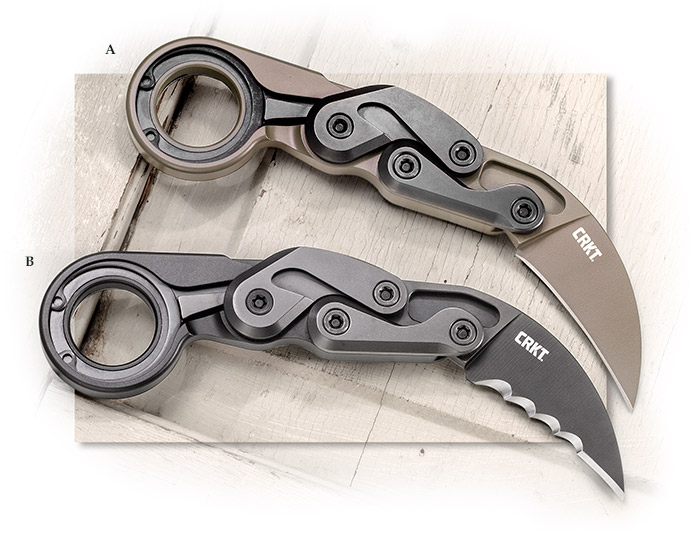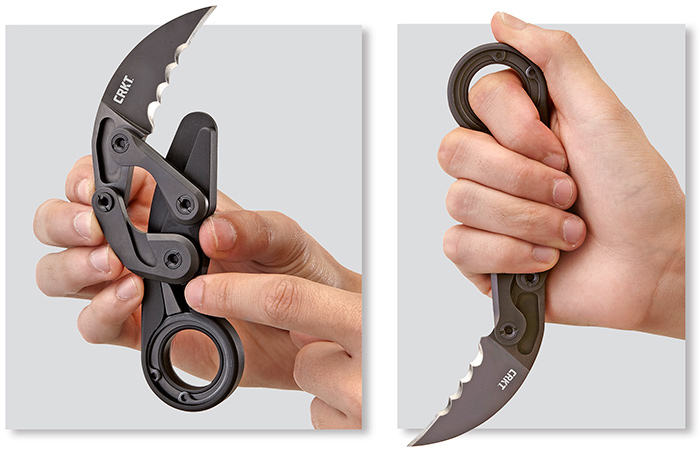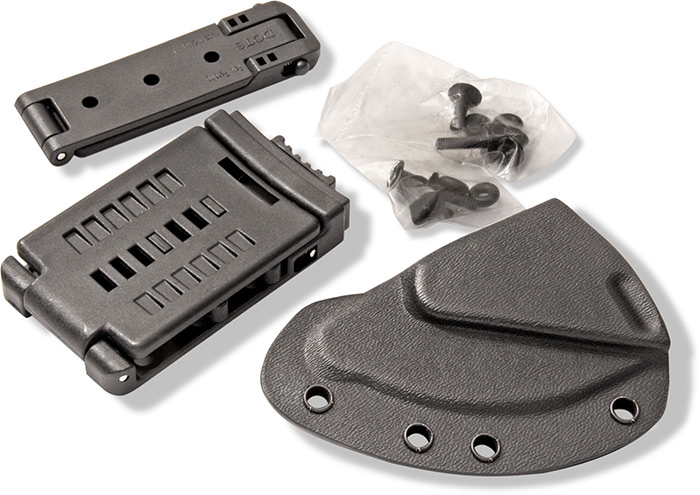 When A.G. handled the prototype of the original Provoke, he was impressed with the functionality. It is modeled after a traditional Karambit with an oxide coated hawksbill-style blade forged of premium D2 steel for durability and excellent edge retention.
The opening mechanism is innovative and futuristic. Nudge the upper crossbar with your thumb while the rest of your fingers firmly grasp the handle, and the blade slides open and locks in place. Shift the discrete lever at the base of the finger loop and the blade retreats into its closed position. (CRKT's video is available on our product page at www.agrussell.com). The pocket clip is also a first, sitting almost completely flush with the handle and likewise activated with light thumb pressure. You will love the challenge and the practice it takes to operate the knife smoothly. Once practiced, it is impressive.
These two versions of the Provoke have a 2-3/8" Karambit style blade of D2 high carbon steel at 60-61 Rc. with a black titanium nitride coating or a earth color Cerakote® coating. The handle is aircraft-grade 6061 aluminum for supreme toughness. Measures 4-7/8" closed and 7" open. Weighs about 6.0 oz. Made in Taiwan.
Option A
CRKT Earth Cerakote Provoke
Item #: CL-4040E $199.95
In Stock
Option B
CRKT Black Provoke with Veff Serrations
Item #: CL-4040V $199.95
In Stock
Option
CRKT Provoke Sheath
Provoke sheath sold separately
.
Item #: CL-4040-PS $35.00
In Stock
Option A
CRKT Earth Cerakote Provoke
Type

Folder

Blade

Hawkbill

Blade Length

2-3/8"

Finish

Cerakote

Blade Steel

D2

Rockwell

60-61

Lock

Frame Lock

Handle

Aluminum

Closed Length

4-7/8"

Weight

6.0 oz.

Origin

Taiwan
Columbia River Knife & Tool (CRKT)
CRKT builds serious knives, engineered to perform on the job or in the field, year in and year out. They are practical, purpose driven designs created by some of the most innovative Knifemakers' Guild members and creative designers. The result is that the finest modern knife designs are now available to you for daily use at an affordable price. We are continually impressed with how much quality CRKT can fit into a very reasonable price.