CRKT Get-A-Way Driver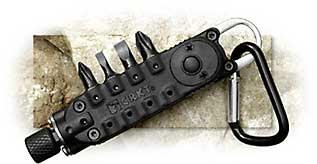 When you first look at the Get-A-Way Driver you may ask "Why?" Once you have carried it for a few days, you will wonder how in the world you ever got along without it. This is a compact screwdriver that functions vertically or you can change the position of the bit to create an angle driver. Includes two standard flat and two Phillips hex bits with a spring-loaded ball detent to keep them in the storage compartment or in the driver. Includes an LED light, an oxygen bottle wrench, a pry bar that will open bottles and jar lids, and a carabiner for convenient carry.
The Get-A-Way Driver is a handy little tool all by itself, but add it to either the Zilla-Tool™ Jr. (CL-9065) or the Li'l Guppie™ (CL-9075) and you double the effectiveness. Measures 3-7/8" and weighs 1.7 oz. Made in the China. Suggested retail is $19.99.
Option
CRKT Get-A-Way Driver
Item #: CL-9094 $14.95
In Stock
Option
CRKT Get-A-Way Driver includes shipping
When ordered alone, includes shipping.
Item #: CL-9094-2 $16.95
In Stock
Columbia River Knife & Tool (CRKT)
CRKT builds serious knives, engineered to perform on the job or in the field, year in and year out. They are practical, purpose driven designs created by some of the most innovative Knifemakers' Guild members and creative designers. The result is that the finest modern knife designs are now available to you for daily use at an affordable price. We are continually impressed with how much quality CRKT can fit into a very reasonable price.