ExiTool for Your Car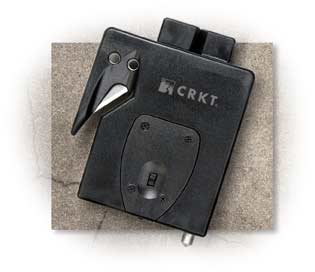 Attaches to your seatbelt where it is always readily available.
Every smart driver has a concern about being trapped in a vehicle after an accident. Will you be able to release the seat belt? What if the car is under water and you can't open the door or window?
Custom knifemaker and outdoorsman Russ Kommer recognized the need for a simple and affordable emergency tool that would fit unobtrusively and conveniently on any standard seat belt. It includes a seat belt cutter, a tungsten carbide window breaker, and a bright L.E.D. flashlight.
The Razor-Sharp high-carbon stainless blade of the seat belt cutter has been carefully positioned to cut seat belts with one quick pull without the need to hide it from your kids. This means with it attached to your seat belt, you will always know where it is when you need it.
The side windows of modern vehicles are tempered to shatter on impact. The ExiTool features a small tungsten carbide breaker point. Just grasp the tool body firmly and strike the window. The L.E.D. light uses one replaceable CR2032 3-Volt lithium battery. Of course, the flashlight is useful in non-emergency situations as well.
Columbia River Knife & Tool (CRKT)
CRKT builds serious knives, engineered to perform on the job or in the field, year in and year out. They are practical, purpose driven designs created by some of the most innovative Knifemakers' Guild members and creative designers. The result is that the finest modern knife designs are now available to you for daily use at an affordable price. We are continually impressed with how much quality CRKT can fit into a very reasonable price.