Case Astronaut Knife M-1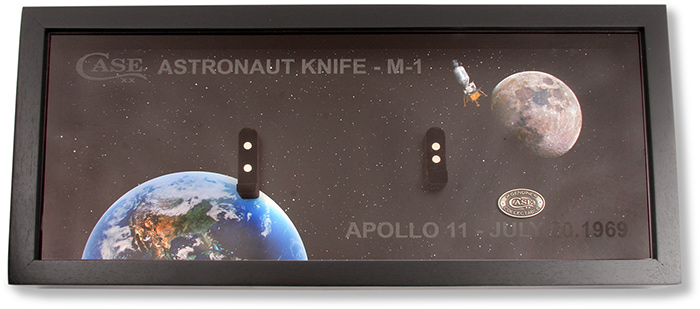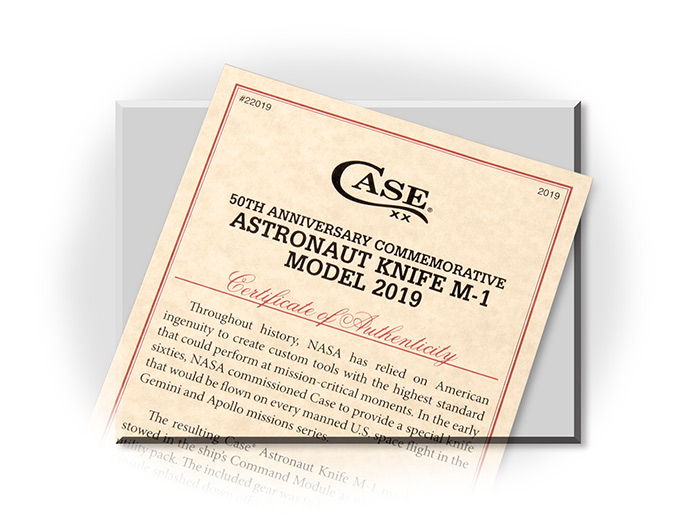 A Limited Edition of 250 Serial Numbered Pieces
When other military knives did not meet NASA's criteria for a knife to be a part of the Apollo space missions, Case was commissioned to create a knife to NASA's exact specifications. The original Case® Astronaut Knife M-1 was designed to be lightweight with a sharp cutting edge and sawteeth on the spine of the blade. The knife must be capable of prying items from the terrain. The handle was made of an ultra-lightweight synthetic which was found to withstand a hard impact without shattering. It also gave off no fumes, a feature that was critical to maintaining the purity of the air quality within the spacecraft.
The knife's most practical applications can be derived from its stowed location inside the ship's Command Module, where it resided with other essential gear as part of a survival pack. The items inside were to be used in the event the capsule splashed down off-course after re-entering Earth. In all, the Case® Astronaut Knife M-1 traveled to the Moon and back nine times from 1968-1972 as part of NASA's Apollo program.
To commemorate the 50th anniversary of Apollo 11's Moon landing, Case created a very limited edition of that knife. To celebrate man's very first steps on the Moon, they built a reproduction with an 11-3⁄4" taper ground, high carbon stainless steel machete blade with a smooth white synthetic handle. Measures 17" from base to blade tip. Weighs only 10.8 oz. Made in Bradford, PA.
It is likely this is the only time we will be able to offer this knife. The quantity available to us is very small so order quickly.
Option
Case Astronaut Knife M-1 with display box
Item #: CS-22019 $400.00
SOLD OUT
Option
Case Astronaut Knife M-1
The machete only.
Item #: CS-12019 $186.95
Temporarily Unavailable
Option
Case Astronaut Knife M-1 with display box
Type

Fixed

Blade

Machete

Blade Length

11-3/4"

Handle

Synthetic

Tang

Full

Overall Length

17"

Weight

10.8 oz.

Sheath

Display Box

Origin

USA
Case Knives
Finally, the W. R. Case Knife Company seems to be in good hands. The family that has guided the Zippo lighter company through so many successful years has begun to make a difference at their knife company. They have called back from retirement, skilled craftsmen who are teaching the current crop of cutlers. These new Case knives look more like those of the 1950's rather than those of the 1970's and 1980's.