Case Hobo with Spoon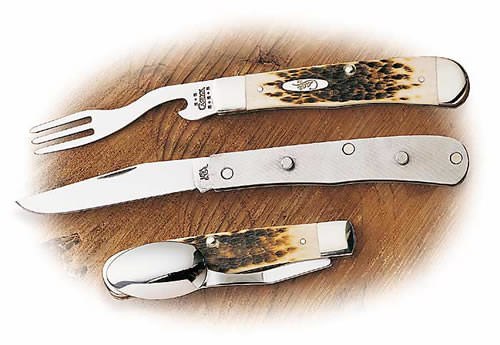 The Hobo is a really old design. It actually began as an eating knife and a spike for lifting morsels, sheathed with a larger knife. The next step was to put a fork and a knife in a folder. Then they worked out methods of separating them. No one knows how long ago that was, only that it followed the invention of forks. I have seen really old ones with two tines. I have also seen them with spoons almost as big as ladles.
200 years ago these implements were common, both in the U.S. and in Europe. Many meals were taken on the road as there were few inns; and you probably did not want to use the implements furnished by those inns. The spoon on this one is probably not large enough for soup but it will put sugar in your coffee and then stir it.
The knife blade measures 3-1/4", the fork 3-1/8" and the spoon 3-3/8", all made of Tru-Sharp® surgical stainless steel at 54-57 Rc. The good looking Amber Jigged Bone gives the handles a class look. Weighs 7.7 oz. Made in the U. S. A. Suggested retail is $117.00.
Option
Case® Hobo with Spoon
Item #: CS-052 $103.95
Low Stock, Call for Availability
Option
Leather Pouch for Case Hobo
Leather Pouch to fit the Case Hobo knife.
Item #: CS-1049 $9.95
In Stock
Option
Case® Hobo with Spoon
Type

Folder

Blade

Drop Point

Blade Length

3-1/4″

Blade Steel

Tru Sharp Stainless

Rockwell

54-57

Lock

Slip Joint

Bolsters

Nickel Silver

Liners

Nickel Silver

Handle

Amber Jigged Bone

Closed Length

4-1/8″

Weight

7.7 oz

Origin

USA
Case Knives
Finally, the W. R. Case Knife Company seems to be in good hands. The family that has guided the Zippo lighter company through so many successful years has begun to make a difference at their knife company. They have called back from retirement, skilled craftsmen who are teaching the current crop of cutlers. These new Case knives look more like those of the 1950's rather than those of the 1970's and 1980's.