Case Kickstart TrapperLock Jigged Bone-Caribbean Blue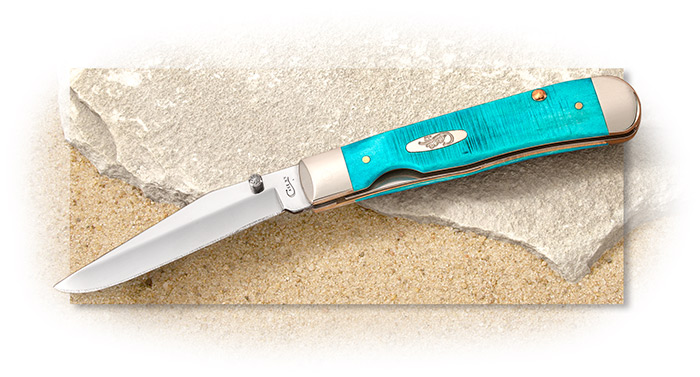 W. R. Case and Sons® has been producing knives for over 100 years and their brand is absolutely one of the most well known. For generations, many "firsts" in pocketknives have been Case® knives. These knives are still being handed down from father to son and from grandfather to grandson.
At the 2018 BLADE show in Atlanta, they debuted their first family of Assisted Opening knives featuring the patented Kickstart® technology. In 2019 they released the Kickstart TrapperLocks. Available in several handle materials on our website, these knives feature clip point blades with a thumbstud, nickel silver bolsters and a tip-down carry pocket clip.
The Kickstart® feature assists in opening the knife by use of the thumb stud so it can be opened quickly and locked into place.
The 3-1/4" blades are made from Case's Tru-Sharp surgical stainless steel and have a hardness of 55-57 Rc. Available with a Caribbean blue bone with a saw cut jig handle. The closed length is 4-1/8". Made in the USA.
Weighs 3.7 oz. Suggested Retail $166.80.
Type

Folder

Blade

Clip Point

Blade Length

3-1/4"

Finish

Mirror Polish

Blade Steel

Tru-Sharp

Rockwell

55-57

Lock

Liner-style

Bolsters

Nickel Silver

Liners

Brass

Handle

Jigged Bone

Closed Length

4-1/8"

Weight

3.7 oz.

Origin

USA
Case Knives
Finally, the W. R. Case Knife Company seems to be in good hands. The family that has guided the Zippo lighter company through so many successful years has begun to make a difference at their knife company. They have called back from retirement, skilled craftsmen who are teaching the current crop of cutlers. These new Case knives look more like those of the 1950's rather than those of the 1970's and 1980's.