Case Kickstart TrapperLock Jigged Bone Old Red Bone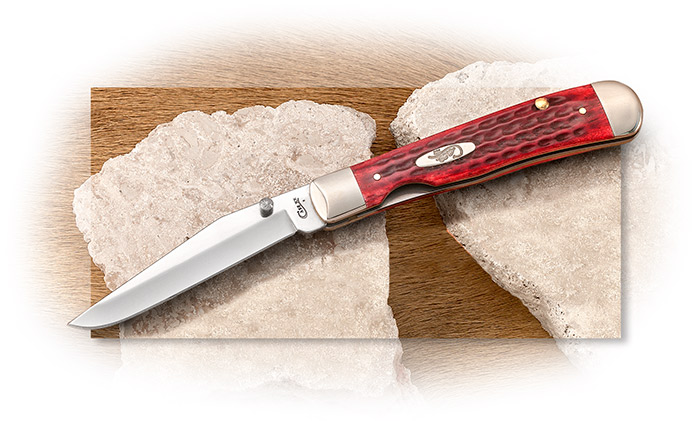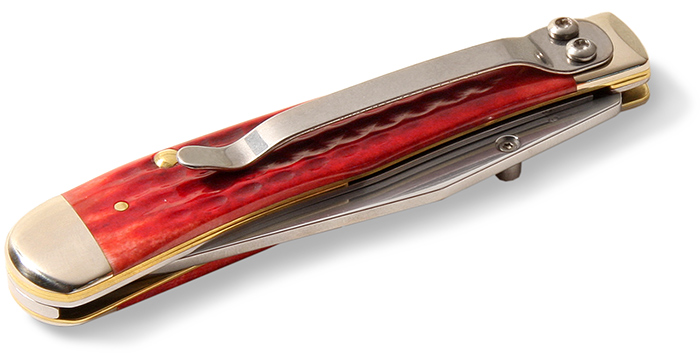 W.R. Case and Sons is best known for their traditional folders. At the 2018 BLADE show, they introduced a traditional style folder with assisted opening. Those were the KickStart Folding Hunters. The TrapperLock Folder is the second in that line. The Kickstart® mechanism is Case's version of a spring assist. Using the thumb stud, move the blade slightly toward the open position and the spring assist takes over to quickly power the blade into the open and locked position.
The 3-1/8" clip point blade is Case's Tru-Sharp Surgical Stainless steel at 55-57 Rc. with a mirror polish. The bolsters are nickel silver, the liners are brass. Fitted with a right hand single position tip-down pocket clip. Handle scales are Cob Jigged Old Red Bone. Measures 4-1/8" closed. Weighs about 3.4 oz. Made in the U.S.A.
Weighs 3.6 oz. Suggested Retail $171.80.
Type

Folder

Blade

Clip Point

Blade Length

3-1/8"

Finish

Mirror Polish

Blade Steel

Tru-Sharp

Rockwell

55-57

Lock

Liner-style

Bolsters

Nickel Silver

Liners

Brass

Handle

Jigged Red Bone

Closed Length

4-1/8"

Clip

Tip-Down

Weight

3.6 oz.

Origin

USA
Case Knives
W. R. Case & Sons Cutlery Company is an American manufacturer of traditional pocket knives, limited edition commemoratives and collectibles. It makes American made traditional pocket knives in a variety of patterns, blade styles, and handle materials. They are particularly well known for their specialized dying process - creating beautiful and colorful bone handles. Case prefers to use their proprietary Tru-Sharp stainless steel. Tru-Sharp sharpens and polishes easily and is enjoyed by collectors all over.
The roots of the company span all the way back to 1889. W.,R. Case & Sons notably made knives in World War 1, notably the M3 Fighting Knife for servicemen and the V-42 stiletto for the Devil's Brigade. They also made knives for NASA astronauts for when they touched back down on earth and were waiting to be picked up. The Case Company is currently owned by the Zippo Manufacturing Company, based in the same city, which is well known for their Zippo lighters. You can see great synergy between the companies as they share equipment and expertise like inlaid dyed bone handles and laser engraving machinery.