Chris Reeve Sebenza 31 Natural Canvas Micarta Small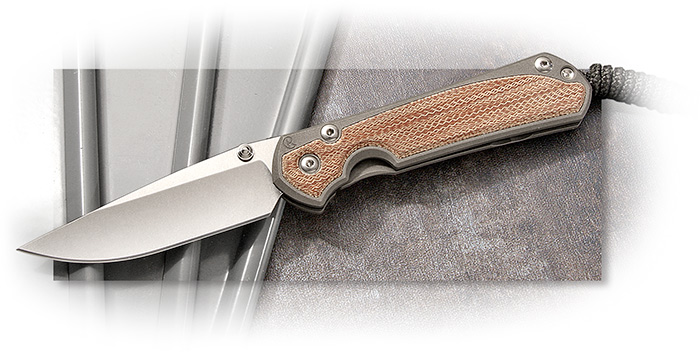 Item #:
CRK-12SNTM
$475.00
Sebenza means "work" in Zulu and the Sebenza was designed, and is crafted, to do just that. All Chris Reeve knives are built using modern precision production methods with the same attention to detail and care that we expect from custom knifemakers. Sebenza has earned a worldwide reputation for solid performance and is known for a "bank vault" sound and feel. In 2009, Crucible and Chris Reeve introduced an ever so slightly superior version of the excellent S30V steel and named it S35VN. By using a much finer grain structure and adding small quantities of niobium (hence the "N") they were able to make the outstanding S30V easier to machine, while improving its toughness and ability to sharpen.
The reverse handle side and the clip are anodized gray. The drop point blade is CPM-S35VN at a hardness of 59-60 Rc. The lock is the Reeve Integral lock, usually referred to as a frame-lock, because the lockbar is integral to the reverse side of the handle frame. The handle is 6AL4V titanium, which includes 6% aluminum and 4% vanadium for excellent strength and corrosion resistance in a relatively lightweight handle material. Natural canvas micarta onlays have been attached on both sides of the hande. Each Chris Reeve Sebenza ships in a nice box and includes a 5/64" wrench, fluorinated grease and a microfiber cloth. The pocket clip is positioned for right-handed tip-up carry. Made in the U.S.A.
Blade measures 3" with a closed length of 4". Weighs 3.0 oz.
Type

Folder

Blade

Drop Point

Blade Length

3"

Finish

Stonewashed

Blade Steel

CPM-S35VN

Rockwell

59-60

Lock

Frame Lock

Handle

Canvas Micarta

Closed Length

4"

Clip

Tip-up

Weight

3.0 oz.

Origin

USA
Chris Reeve Knives
Chris Reeve Knives began in a Durban, South-African garage in the early 1980's. I remember when Chris and Ann became a part of the Knifemakers Guild. A.G. was excited to see what they were doing. It wasn't very long after (1989) that the family moved to the U.S.A. Over the past 30 years, Chris Reeve Knives has become one of the premier knife brands in the United States, winning 14 Manufacturing Quality Awards at the annual Blade® Show between 2000 and 2019.
Early on, the reputation of the company was built on Chris' design for a integral one piece fixed blade knife. In 1986, he developed what he called his Integral-Lock which has as become an industry favorite. Chris began creating handmade versions of the Sebenza in 1989 and in 1991, in the first CRK machine shop, the first "Original Sebenza" made it all the way through production. While the company produces other Chris Reeve knives, it is the Sebenza that drives their success.
If a Chris Reeve knife is not in stock when you order, delivery typically takes 3 to 4 months. Left-handed knives are available by special order through A.G. Russell Knives. Delivery takes up to 7 or 8 months.