Gaétan Beauchamp Cave Bear Tooth Hunter
Item #:
GB-914MN-CB
$1,345.00
An A.G. Russell® Exclusive
Limited to 10 Pieces
Many mysteries exist around the cave bear. First described in 1774, scientists at the time considered the skeletons found to be apes or even dragons. Many caves in Central Europe have skeletons of cave bears inside - one in Romania was discovered to have had 140 skeletons. These animals have a similar skeletal structure to the brown bear, however they were more the size of our largest modern-day bear, ranging in weight from 770 to 1,320 lbs. Their teeth were very large, probably due to their diet of tough materials.
Canadian knifemaker Gaétan Beauchamp has created for us a fixed blade knife with a fossilised cave bear tooth for part of the handle. The teeth were found in the Karparten Mountains of Romania. Desert Ironwood spacers frame a scrimmed image of a Cave Bear in color on black Water Buffalo Horn on the obverse side of the handle. Gaétan is an extremely talented knifemaker and one of the most celebrated scrimshanders in the world. He is not only a highly technically skilled artist, but an extremely creative one as well.
The 4-7⁄8" blade is Mike Norris's Frequency Stainless Damascus at 59-60 Rc. The overall length ranges between 9-3/8" to 9-7⁄8" from tip to butt. Weighs approximately 6.3 oz. With each knife, Gaétan has included an envelope containing a Certificate of Authenticity, proof of the legal import of the teeth, and a copy of an article about Cave Bears. Includes a black leather sheath. Knife and sheath both handmade in Quebec.
Type

Fixed

Blade

Drop Point

Blade Length

4-7/8"

Blade Steel

Damascus

Hilt Guard

Stainless

Handle

Cave Bear Tooth

Overall Length

9-3/8"

Weight

5.2 oz.

Sheath

Leather

Origin

Canada
Gaetan Beauchamp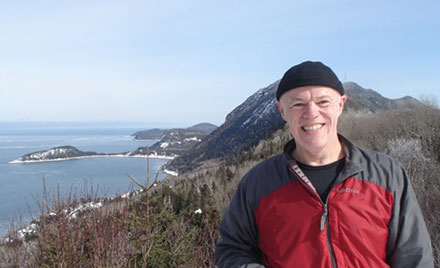 Gaétan Beauchamp is a Canadian knifemaker who not only has a talent for making knives, but for scrimshanding as well. In 1990 Gaétan watched his friend scrimshaw a piece of ivory. Fascinated, Gaétan tried his own hand at this dying art. His first piece turned out "very good." Determined to continue this art form, Gaétan tried to get local knife makers to let him work on their handles. Being a relative untried novice, this was difficult. But the solution was simple, "I would just have to learn to make knives." After years of practice and hard work, today Gaétan's knives are just as sought after as his scrimshaw is.
Gaétan lives in Quebec, Canada and is a full time maker who sold his first knife in 1992. He is now a very experienced handmade knifemaker.