Gaétan Beauchamp Damascus Fixed Blade with Leopard Scrimshaw on Water Buffalo Handle
Fourth in African Big Five Series – Limited to 25 Pieces
In December 2013, we introduced Gaétan Beauchamp's African Big 5 Series of fixed blade knives with Mike Norris Damascus blades. The Leopard is the fourth in this series. The first three included the Cape Buffalo, Elephant and Rhino. Every knife in the series will be limited to 25 pieces. The Cape Buffalo and the Elephant have completely sold out, but there are a very few of the Rhino still available.
The previous three knives had Mammoth Ivory handle scales with colored scrim. But because he felt that the image of the leopard would not be as pronounced as he would like, Gaétan has chosen black Water Buffalo Horn for the scales on this knife. The obverse side scale is scrimed in color with an image of a Leopard in its native habitat. The reverse side scale is buffed and polished water buffalo horn.
The 4-1⁄8" drop point blade is Mike Norris Gator Skin Pattern Stainless Damascus at 59-60 Rc. The bolsters are mirror polished, engravable 416 stainless steel and the handle scales are highly polished water buffalo on a full tang. Measures 9" tip to butt. Weighs approximately 8.1 oz. Includes a black leather pouch style sheath. Knife and sheath are handmade in Quebec. If out of stock, delivery can take 1 to 2 months.
Type

Fixed

Blade

Drop Point

Blade Length

4-1/8"

Blade Steel

Damascus

Rockwell

59-60

Bolsters

Stainless

Handle

Water Buffalo

Tang

Full

Overall Length

9"

Weight

8.1 oz.

Sheath

Leather

Origin

Canada
Gaetan Beauchamp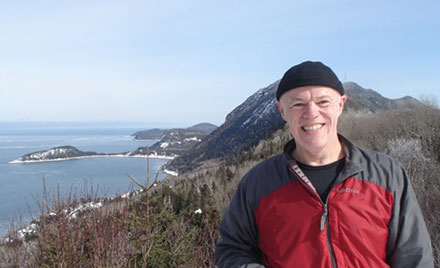 Gaétan Beauchamp is a Canadian knifemaker who not only has a talent for making knives, but for scrimshanding as well. In 1990 Gaétan watched his friend scrimshaw a piece of ivory. Fascinated, Gaétan tried his own hand at this dying art. His first piece turned out "very good." Determined to continue this art form, Gaétan tried to get local knife makers to let him work on their handles. Being a relative untried novice, this was difficult. But the solution was simple, "I would just have to learn to make knives." After years of practice and hard work, today Gaétan's knives are just as sought after as his scrimshaw is.
Gaétan lives in Quebec, Canada and is a full time maker who sold his first knife in 1992. He is now a very experienced handmade knifemaker.