Kershaw Taskmaster Shears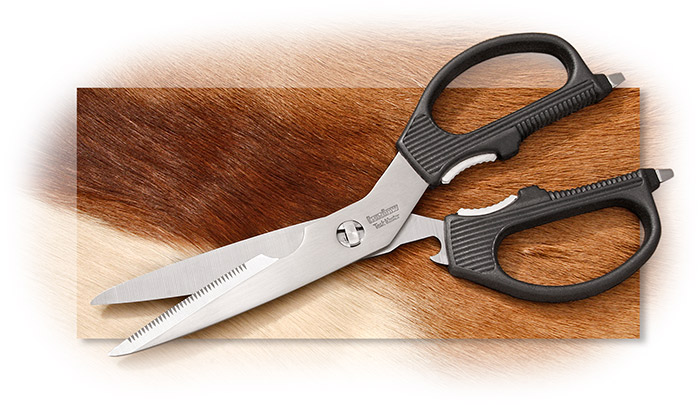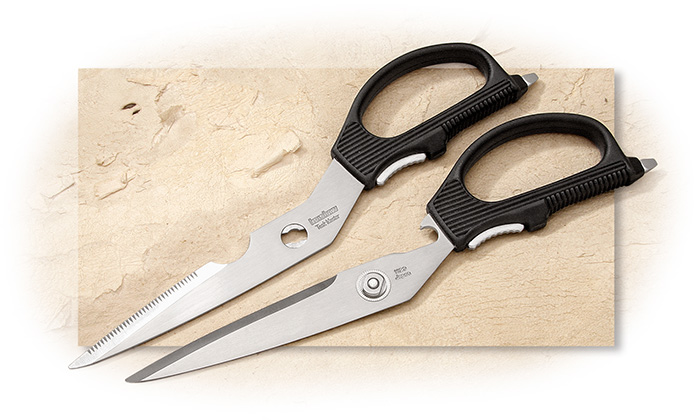 From the Manufacturer:
You will be amazed at the many uses for our multi-purpose Taskmaster Shears. Of course, they cut things. In the kitchen, use them to snip herbs, trim asparagus, cut up tortillas, trim beans, open food packages, cut cheesecloth or waxed paper, trim flowers—you get the idea. In other areas of the house, they're handy for cutting cord, twine, or rope, opening packages or envelopes, and lots more. But Kershaw's Taskmaster Shears really are multi-purpose tools.
There's a built-in nutcracker, a jar opener, a bone notch (also very handy when trimming flower stems), a lid lifter, and even two screwdriver tips, one in each handle. They're great for tightening a loose screw in the kitchen cabinet without having to go to the garage to find a screwdriver.
Taskmaster Shears have one blade serrated so they can easily cut through even tough or fibrous materials. A non-slip plastic over-mold on the handles makes them comfortable to use as well. And what could make these already handy tools even handier? The blades separate for easy cleaning, then lock together easily and securely for use.
The scissors are made of high-quality stainless steel. Overall length is 8-7/8". Weighs 5.2 oz. Made in Japan. Suggested Retail $54.99.
Kershaw Knives
Kershaw Knives was founded in 1974 in Portland, Oregon when knife salesman Pete Kershaw started a cutlery company that would make knives from his designs. Japanese based KAI Cutlery manufactured those designs. In 1978, KAI Cutlery purchased Kershaw Knives and the company, renamed KAI USA Ltd., continues today with three product lines; including the original Kershaw Knives, Zero Tolerance Knives, and Shun Cutlery which primarily markets kitchen cutlery.
Over the years, Kershaw Knives has worked with several custom knifemakers. Cutlery Hall of Famer Ken Onion, a custom knife maker and inventor of the "SpeedSafe" assisted opening mechanism, is the premier knife designer for Kershaw Knives. Kershaw has also collaborated with custom knifemakers Grant and Gavin Hawk, Frank Centofante, and Ernest Emerson. Kershaw has released models that were developed in collaboration with National Geographic, Jeep, Orange County Choppers, the American Professional Rodeo Association, and the Rocky Mountain Elk Foundation.
Kershaw manufactures excellent knives and has built a very strong customer fan base due to their innovative designs and their quality control.