Kershaw ZT 0640 Emerson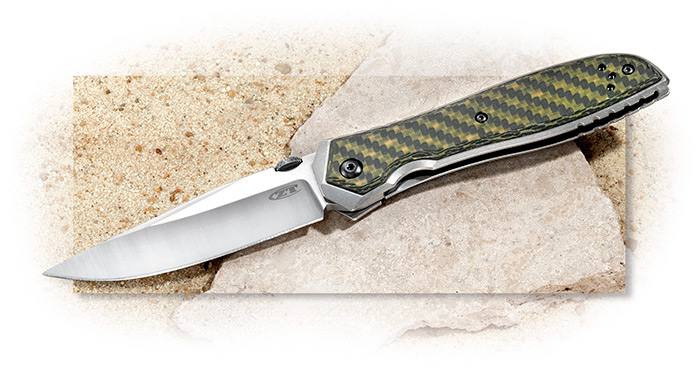 Designed by Ernest Emerson
The 0640 is a new Zero Tolerance collaboration with Ernest Emerson that provides both utterly practical design and boldly eye-catching style. The stonewashed titanium handle has a black and green carbon fiber overlay, obverse and reverse sides, with machined ridges at the top near the pivot and on the bottom near the butt which adds to one's ability to grip the knife. Locks with a sturdy frame-lock with a hardened steel lockbar insert for a secure lockup.
The 3-3⁄4" clip-point blade is CPM 20CV high-chromium stainless at 60-62 Rc. This powdered metallurgy tool steel has a high volume of vanadium carbides for exceptional wear resistance and a truly long-lasting edge. The highest level of chromium of any high-vanadium steel gives 20CV excellent corrosion resistance as well. The blade is machine satin-finished on the grinds and stonewashed on the flats.
The 0640 is a fully manual knife that opens one-handed with the Emerson thumb disk. A reversible pocketclip makes it easy to carry. EDC at work, or outdoors, the new 0640 handles it all. Measures 4-3⁄4" closed. Weighs 4.4 oz. Suggested retail is $310.00. Made in the U.S.A.
Type

Folder

Blade

Clip Point

Blade Length

3-3/4"

Finish

Satin

Blade Steel

CPM-20CV

Rockwell

60-62

Lock

Frame Lock

Handle

Titanium

Closed Length

4-3/4"

Clip

Tip-up

Weight

4.4 oz.

Origin

USA
Zero Tolerance Knives
Zero Tolerance knives has but one motto: We have zero tolerance for anything less than the best. Zero Tolerance knives are made in the U.S.A. and designed for hard use. Often abbreviated ZT knives, these knives have premium steels and tough handle materials. They are typically overbuilt and designed to withstand a lot of abuse. These knives are very popular with military, law enforcement, and first responders such as firefighters and emergency medical personnel. Recently ZT has expanded their line from just tactical knives, to include spring assisted knives, everyday carry folders, and gentlemen's carbon fiber folding knives. Many use ball bearing features and open very smoothly (just be careful if you try to take one apart!). All ZTs are built in Tualatin, Oregon USA. Zero Tolerance is a brand of KAI USA Ltd., who also owns Kershaw Knives.