Krudo FEROCE Folder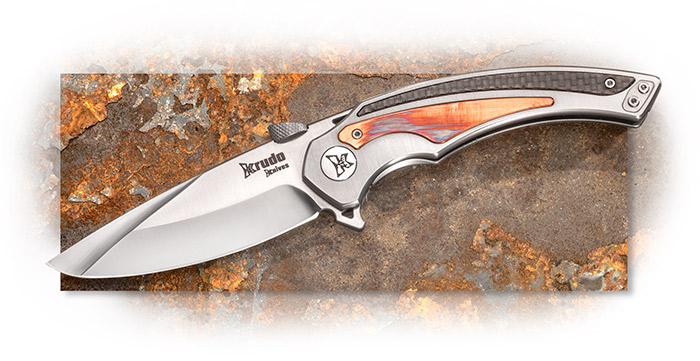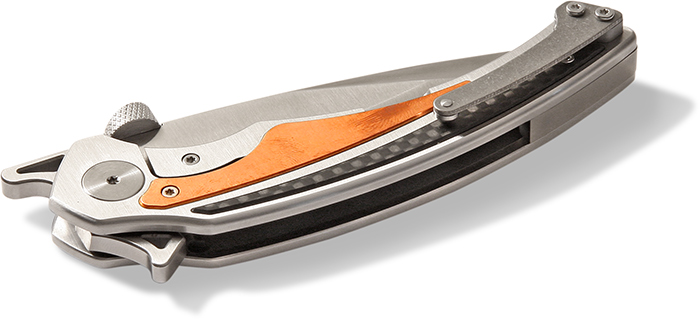 Item #:
KRU-FER19
$145.00
With the release of the FEROCE folder, Louis Krudo has taken a little different direction than in his earlier more tactical designs. This curved handled folder is visually appealing and comfortable in the hand. The FEROCE is the first Krudo knife to feature a copper inlay in the handle. For most of his knives, he has leaned heavily toward stainless steel frames with carbon fiber inlays. In the FEROCE he has added both a narrow inlay of carbon fiber and one of copper. As the copper inlay ages, it will begin to patina causing each knife to be unique.
The 3-1⁄2" blade of 9Cr18MoV stainless at 57-59 Rc. has an unusual dual-grind. The lower bevel is flat ground and the swedge has a deep hollow grind – deeper than I've seen before. The handle frame is stainless steel with carbon fiber and copper inlays on both the front and the back sides. Louis' dual flipper deployment system adds to the visual interest and makes the knife easy to open. The reversible pocket clip is positioned for tip up carry. While it opens with either hand, it is a frame-lock so the lock functions from one side only. Measures 4-3⁄4" closed. Weighs 6.4 oz. Made in China. Suggested retail is $165.00.
Type

Folder

Blade

Drop Point

Blade Length

3-1/2"

Finish

Satin

Blade Steel

9Cr18MoV

Rockwell

57-59

Lock

Frame Lock

Handle

Stainless

Closed Length

4-3/4"

Clip

Reversible/Tip-Up

Weight

6.4 oz.

Origin

China
Krudo Knives
I came across KRUDO Knives at the 2016 Blade® Show. When I realized how close their philosophy, enthusiasm for their knives and dedication to producing a quality product was to ours, I decided I needed to offer those knives to our A.G. Russell knife catalog customers.