Krudo KARSINO10 Folder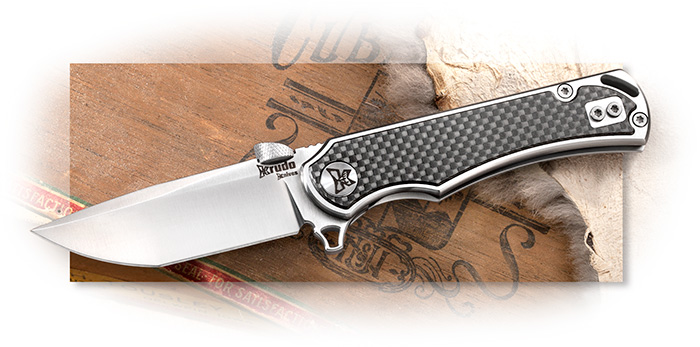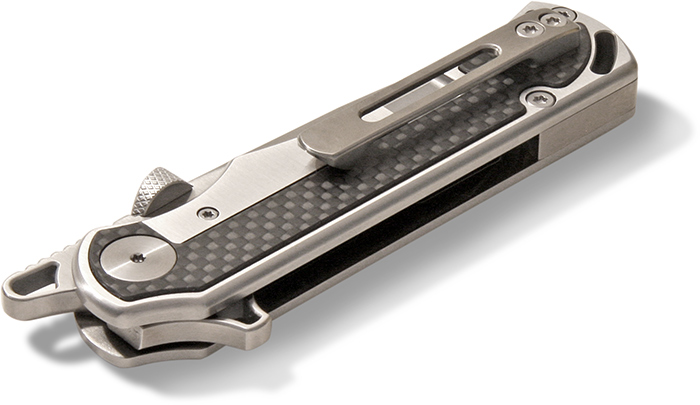 Item #:
KRU-KARS10
$125.00
Have you ever been in one of those situations where time seems to stop, where you have a shift of perception and see something in a whole new light? Louis Krudo says he has lots of those moments. You will see it if you are ever in a conversation with him. Suddenly his face changes into a concentrated look. Like A.G., he may even grab a random piece of paper or a napkin at a restaurant and begin to draw.
This is how KARSINO10 began, as a drawing on a napkin. Initially, it had a different handle, but once he set the design up in CAD, his wife took a look and said "I like that handle but with a tanto blade.". Building a new handle design didn't take long and the KARSINO10 was created. The 3-3⁄8" modified drop point blade is 9Cr18MoV stainless at 57-59 Rc. Stainless steel handle frame with carbon fiber inlays. Frame Lock. Ships with a reversible/removable pocket clip positioned for tip-up carry. Measures 4-1⁄2" closed. Weighs 2.7 oz. Made in China. Suggested retail is $165.00.
Type

Folder

Blade

Drop Point

Blade Length

3-3/8"

Blade Steel

9Cr18MoV

Rockwell

57-59

Lock

Frame Lock

Handle

Stainless

Closed Length

4-1/2"

Clip

Reversible/Removable Tip-Up

Weight

2.7 oz.

Origin

China
Krudo Knives
I came across KRUDO Knives at the 2016 Blade® Show. When I realized how close their philosophy, enthusiasm for their knives and dedication to producing a quality product was to ours, I decided I needed to offer those knives to our A.G. Russell knife catalog customers.