Leatherman M.U.T. Military Utility Tool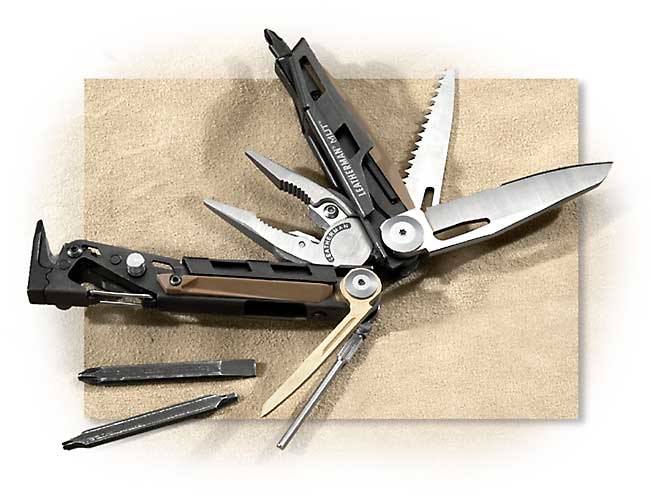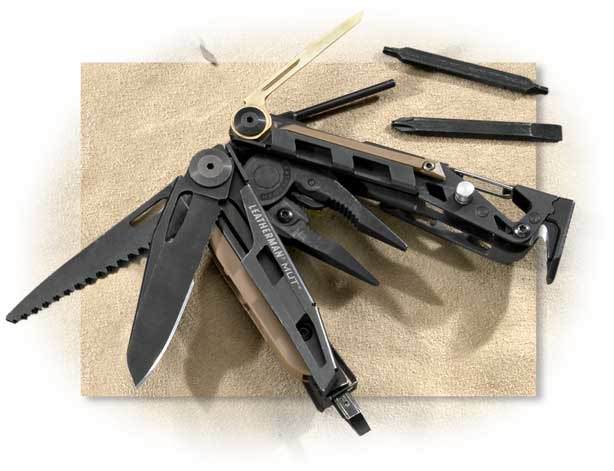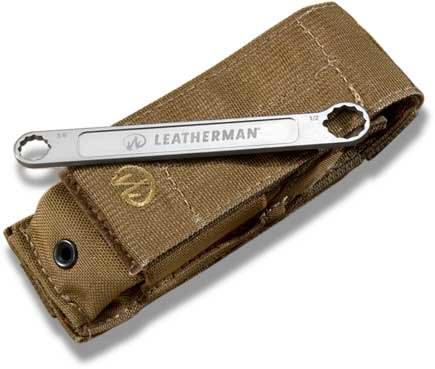 A whole backpack full of necessities in one compact tool.
Tim Leatherman couldn't possibly have envisioned what he was starting when he introduced the first pocket toolbox over 25 years ago. Nearly every mainstream knife manufacturing company, and many tool companies, have entered into the multi-tool arena, but none seem to compare to the original.
The Leatherman M.U.T.™ was developed in conjunction with competitive shooters and operational snipers to be the first multi-tool that functions as a tactical and practical tool for military, law enforcement, or civilian shooters. Whether you are working on an M16 or MRAP, going to the range or the hunting cabin, the MUT will have the tool you need. In addition to standard functions, it was designed to perform maintenance on the M16/AR15 family of rifles including: optic mounting and adjustment; bolt override malfunctions; take down and retaining pin removal; firing pin retaining pin removal and carbon removal on bolt carrier, bolt and firing pin. Includes cleaning rod and brush adapter, a Molle sheath and scope adjustment wrench. Assembled in Leatherman's Portland, Oregon plant.
Speciality tools include a Bolt Override Tool, replaceable Firearm Disassembly Punch and replaceable Carbon Scraper. Standard tools include a 3" 420HC stainless combo edge Knife Blade, 3-1/8" saw blade, replaceable 154CM Wire Cutters for hard wire and stranded wire, Needlenose & Regular Pliers, Hammer, replaceable Cutting Hook, Electrical Crimper, Large Bit Driver – with 6 bits including Phillips #1-2 and 3/16, Phillips #2, 1/4" Flat, Torx #15 and Hex 7/64", Bottle Opener and Carabiner Clip.
Option
Leatherman® M.U.T.™ Military Utility Tool Polished Blades
Item #: L-MU012 $159.95
In Stock
Option
Leatherman® M.U.T.™ Military Utility Tool Black Blades
Item #: L-MU022 $159.95
Low Stock, Call for Availability
Option
Leatherman® M.U.T.™ Military Utility Tool Polished Blades
Type

Multi-Tool

Blade

Drop Point

Blade Length

3″

Blade Steel

420HC

Rockwell

56-57

Lock

Walker Lock

Closed Length

5″

Clip

Carabiner/Pocket

Weight

10.9 oz

Sheath

Desert Tan Molle Pouch

Origin

Assmbled in Oregon
Option
Leatherman® M.U.T.™ Military Utility Tool Black Blades
Finish

Black Oxide Coating
Leatherman
Tim Leatherman started the pocket toolbox revolution that has swept not only the U.S., but Europe and Asia as well. These little multi-tools carry around all kinds of tools, and Leatherman always puts a lot of thought and effort into each of their designs.
Leatherman gives a 25-year guarantee for materials and workmanship. Buy one from us, and it is guaranteed to satisfy you as long as you think it should.