Lion Steel TiSpine Folder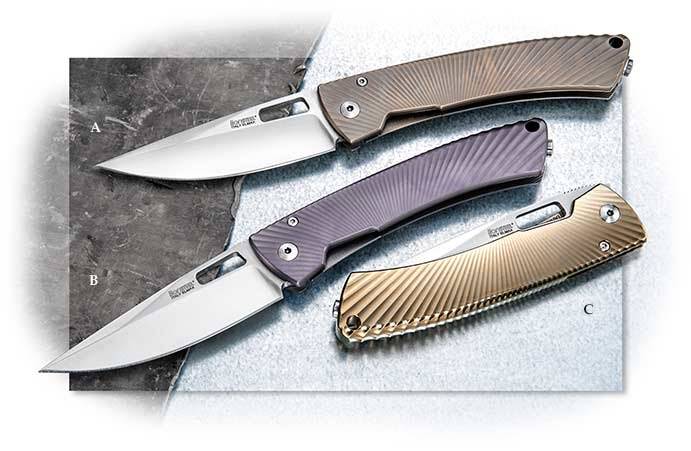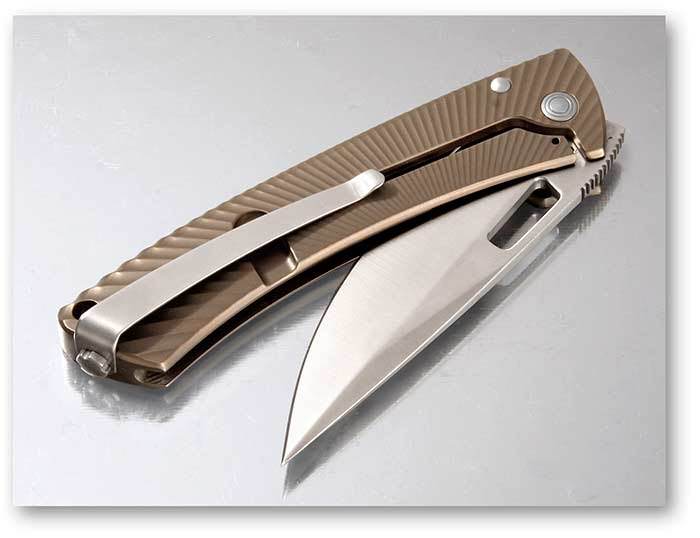 Item #:
LIO-TS1BRZ
$385.00
Amazing CNC Machined Handle
Lion Steel has definitely challenged their CNC machining skills (and perhaps their pocketbook) in creating the TiSpine Folder. The handle is machined from a solid billet of Titanium in much the same way the A. G. Russell model K87 was milled from a solid piece of stainless steel beginning back in the late 1980s. They have started with a solid piece of Titanium that was probably half an inch thick (the finished handle measures about 3/8"), significantly longer than the finished handle, and machined in at least four different directions to create a solid, one-piece handle. When I think about the cost of titanium and the amount left on the shop floor, I'm awed. The frame-lock is also intregal to the handle, being machined from that solid piece of titanium.
The 3-1/4" drop point blade is premium Elmax stainless steel at 59-60 Rc. Elmax is a third generation powder metal stainless steel from Uddeholm with 1.70% carbon and 18.00% chromium. The performance is superior to Crucible's S30V. It is much tougher and has far better edge holding capability. The large rectangular thumbhole makes opening the blade easy.
It includes a pocket clip for tip-up carry and is available in three handle finishes: a matte bronze, matte blue/purple, and a high polish gold. Measures 4-3/8" closed and weighs 3.5 oz. Made in Italy. We have a small quantity of each color on hand ready to ship.
Option A
Lion Steel TiSpine Folder matte bronze
Item #: LIO-TS1BRZ $385.00
Low Stock, Call for Availability
Option B
Lion Steel TiSpine Folder matte blue/purple
Item #: LIO-TS1BLU $385.00
Low Stock, Call for Availability
Option C
Lion Steel TiSpine Folder polished gold
Item #: LIO-TS1GLD $385.00
Low Stock, Call for Availability
Option A
Lion Steel TiSpine Folder matte bronze
Type

Folder

Blade

Drop Point

Blade Length

3-1/4″

Blade Steel

Elmax

Rockwell

59-60

Lock

Frame Lock

Handle

Titanium

Closed Length

4-3/8″

Weight

3.5 oz.

Origin

Italy
Lion Steel
Maniago, located in the Friuli-Venezia Giulia region of the Provinces of Pordenone in northeastern Italy, is an area known for its production of steel blades and boasts about being the home several famous knife manufacturers such as Lion Steel.
Lion Steel was founded in 1969 by Gino Pauletta, a family business that has continued to grow under the operation of his 3 sons since the late 1990's. The company's name is derived from the combination of a Lion stone sculpture carved by Gino's grandfather, and steel, which is the fundamental component of a knife.
Lion Steel knives are made in the long-standing Maniago tradition. They have combined traditional Italian design elements and production techniques with modern methods to produce beautifully crafted knives from the heart of Italian knife making country.