Maserin ARNO Folder Boxwood Scales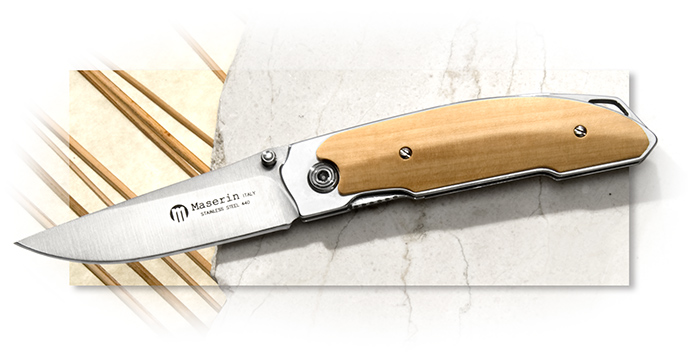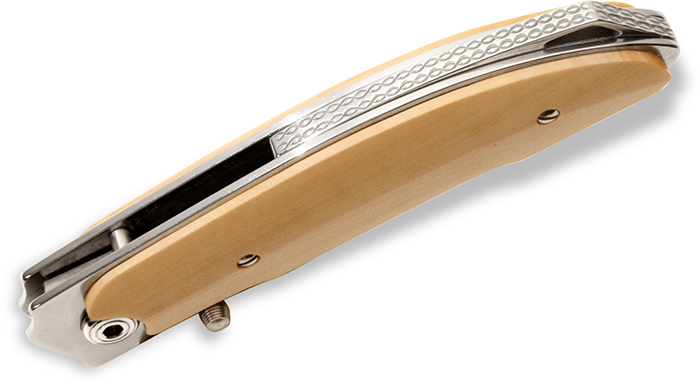 Maserin®, one of the top knife manufacturers in Maniago, Italy, works with knifemakers from across the world for many of the knife designs they produce. The ARNO was designed by French knifemaker Jean Marc Arnaud and manufactured by Maserin. The design and the execution are impeccable.
The 2-3/4" flat ground satin finish drop point blade is 440A at 56-57 Rc. A single thumbstud allows easy one hand opening. The liner style lock and frame are stainless steel with Boxwood handle scales that are precisely shaped to create a crisp sharp visual effect, but softened enough to be extremely comfortable in the hand. Measures 3-3/4" closed and weighs 2.6 oz. Includes a black leather pocket pouch to protect if from the other things you carry in your pocket. Made in Maniago, Italy.
Type

Folder

Blade

Drop Point

Blade Length

2-3/4″

Finish

Satin

Blade Steel

440A

Rockwell

56-57

Lock

Walker Lock

Handle

Boxwood

Closed Length

3-3/4″

Weight

2.6 oz

Sheath

Black Leather Pocket Pouch

Origin

Italy
Maserin Knives
Maserin was established in 1960. The owners, members of the family who founded it, have built this company on the tradition of the artisan blacksmiths who were the reason Maniago became known as the "city of the knives". Maserin ®, and Maniago in general, has modernized their knife making processes using laser, CNC, and other current technology, while maintaining high quality and building on traditional models, many of which they continue to produce. In Maniago, they are responding to the challenge of market globalization by finding ways to keep new generations interested. They continue to exhibit an entrepreneurial spirit, new marketing strategies, and a constant improvement of production standards.
In this age of business mediocrity, just wanted to give 5 out of 5 stars to Russell Knives Co. for outstanding customer service. Mary (who answered the phone as opposed to 30 phone prompts) spoke clearly and was helpful in addressing a knife concern. Within a week, I received a package which was above expectations, and exceeded most customer service experiences. Things do occasionally go south, but what separates one company from the next is how they handle disappointments or concerns. To this end, this American Company is like Saul of old: standing heads and shoulders above the crowd. If you have any reservation about AG Russell Knives, listen to a voice who does not casually hand out accolades. They stand behind their products and their word is good as gold. Knife on the table: Arno Maserin boxwood. I think it's French design, Italian made, awesome product, but a huge heads up to Russell for their customer service. Just had to say so. (If I lived nearby, I'd apply for a job) Jack K. PA, PA