Morseth Anniversary Collector's Chest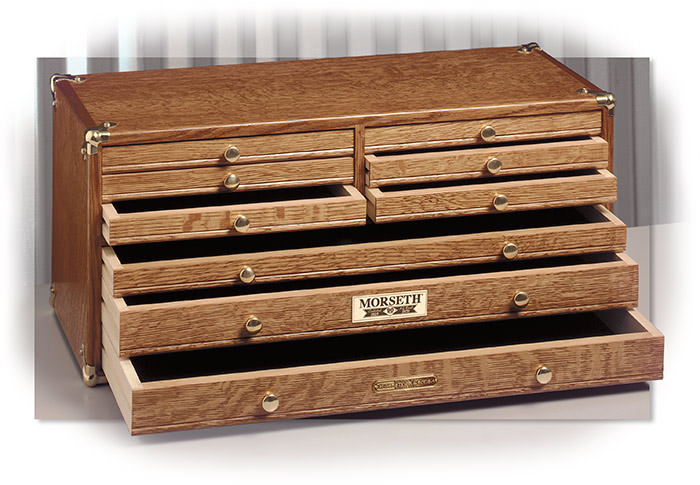 Item #:
GO-210MA-15
$945.00
Limited to 10 Sets and 10 Individual Chests.
In 1998, I designed a new chest for Gerstner. This was a collector's chest with drawers suitable for collections of pens, watches, medals or other small collectible items. Of course, I was thinking about knives. We later added the two bases included in this set. As we worked on creating a Morseth® Anniversary knife, it seemed logical to also make a very limited set of Morseth® Anniversary Chests.
These are hand built in Gerstner's factory in Dayton, Ohio where they have built chests since 1906. The company is still owned and run by descendents of Harry Gerstner who designed and built those first chests.
Option
Morseth Anniversary Collector's Chest
The Collector's chest is the perfect size for the small or new collection. Drawers are lined with felt. Outside measures 20-1/2" x 7-3/4" x 9-1/4" tall. Six drawers measure 8-5/8"x 6" x 11/16" inside, one measures 18-3/16"x 6" x 11/16", the remaining two measure 18-3/16"x 6" x 1-1/4". Weighs 15.2 lbs.
Oversize shipping adds $15.00. 48 states only.
Item #: GO-210MA-15 $945.00
ALLOW 2 TO 3 WEEKS FOR DELIVERY.
Other
This Brand is for Products that do not have a larger brand.