Morseth Model 6 Hunter's Bowie - Desert Ironwood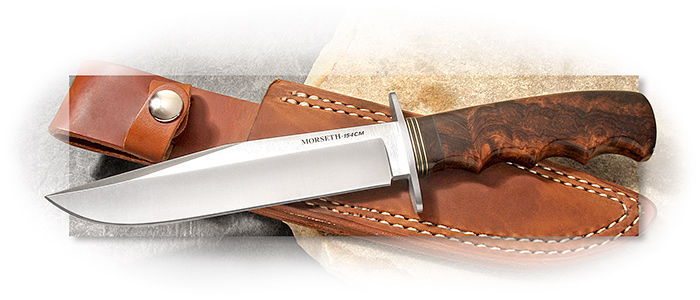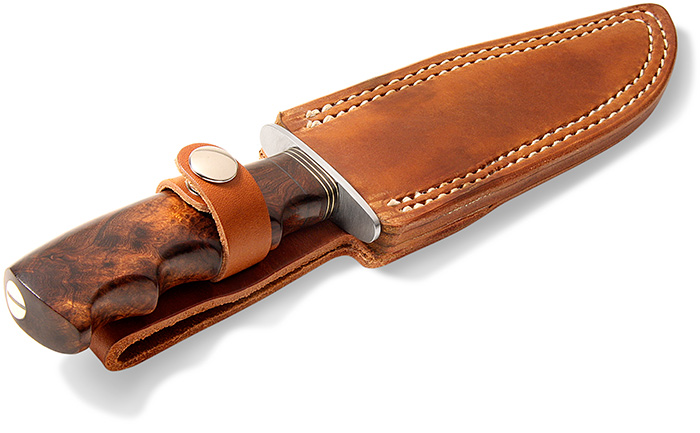 Item #:
M6-154-DI
$495.00
Morseth® knives continue to be handmade in our shop using all possible modern techniques, such as outside water jets to cut the blades instead of band sawing, CNC grinders to rough grind the blades, and EDM to precisely fit the guards instead of hand filing - cutting belt costs and our knifemaker's time. These cost savings help keep the retail prices reasonable.
The Hunter's Bowie (Model 6) has been one of the most popular Morseth® models since A. G. Russell™ Knives has owned the trademark. In the early 1970s, shortly after A.G. purchased Morseth Knives from Harry Morseth's son Gordon, he and Bob Dozier re-designed Harry's 6" hunter. They made the blade wider and Bob redesigned the handle to include the fingergrooves. This is really a multi-purpose knife, great as a general camp knife; good for butchering your game, slicing bacon or splitting kindling for a fire. Also makes a very usable fighter.
Today the blade steel is Crucible's 154CM stainless at 59-61 Rc. Otherwise, the knives are made as they have always been, with a narrow tang allowing for a large variation in handle materials with very strong structural integrity. Blocks of each material chosen for the handle are drilled and broached to fit and then slipped over the narrow extension of the blade (the tang). The space between the tang and the handle material is then filled with epoxy and a tang nut is screwed onto the end of the tang and tightened, creating a solid handle. In this case the handle is Desert Ironwood from the Sonoran Desert, separated from the handle with a thin strip of brass and black fiber or rucarta. The guard is 420 stainless steel. Measures 10-1⁄2" tip to butt. Weighs 8.1 oz. Each knife includes a handmade sheath. Sheath and knife are both made in the U.S.A.
The Morseth® trademark is owned by A. G. Russell™ Knives, Inc.
Type

Fixed

Blade

Bowie

Blade Length

6-1/4"

Blade Steel

154CM

Rockwell

59-61

Hilt Guard

420 Stainless

Handle

Desert Ironwood

Tang

Stick

Overall Length

10-1/2"

Weight

8.1 oz.

Sheath

Leather

Origin

USA
Morseth
Harry Morseth began making knives by hand around 1925 using A-2 tool steel that he shaped, ground and heat-treated himself. Shortly after World War II he made a trip to his father's native Norway and bought a thousand rough ground, laminated blades. Harry finish ground those blades and turned them into handmade knives. Those blades were heat-treated to 60+ Rc. and they held an edge to such a remarkable degree that Harry was able to build a reputation that kept he and his wife (she laced the sheaths) busy until their deaths in old age. Knives made using the Morseth® Laminated Steel, including those made in the A. G. Russell™ shop, sell in the secondary market today at high prices. They are still in demand. All Morseth knives currently for sale on this website were either made in the A.G. Russell Shop, or by Bob Dozier in his shop.