Randall A. G. Russell Special Finger Grooved Ivorite Handle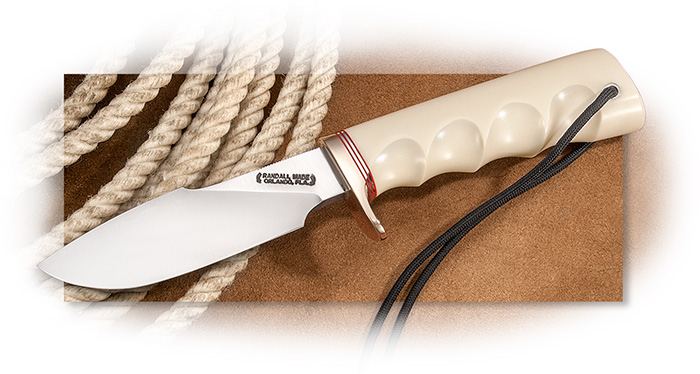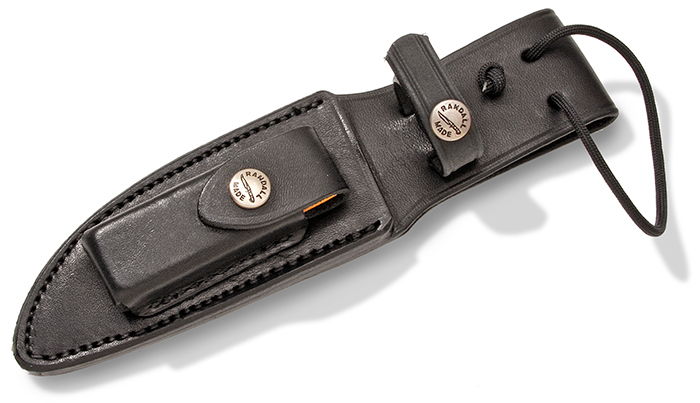 Item #:
RA-AGIV42FG
$695.00
Limited to 200 Pieces
Back in the 1990s, I designed a hunting knife for Randall to make just for A. G. Russell™ customers. We made the knife with a 4" blade, a 4-1⁄2" blade and a 5" blade. Most that we had made were with stag handles. We also produced a few with Maple Burl, Leather, and Desert Ironwood. In 2012, Randall made one hundred with a 4-1⁄2" blade of O-1 and a plain Ivorite handle. I really like the look of a finger grooved handle, and Randall does those so well. We have asked them to make a limited number with a 4-1⁄2" O-1 blade at 56-57 Rc. with a finger grooved Ivorite handle. Ivorite is Randall's proprietary off-white phenolic handle material.
The 4-1⁄2" blade of O-1 tool steel measures 1-3⁄8" wide at the widest point and 3⁄16" thick. It is both hollow ground and convex ground in a very complex design to give you real slicing ability. The nickel silver guard and nickel silver and red spacers wonderfully compliment the Ivorite handle. All knives have the words "A. G. Russell Special" above the Randall stamp on the back of the sheath. Measures 9-1⁄4" from tip to butt and weighs 7.0 oz. Includes a black model A leather sheath. Handmade in the U.S.A.
(5-2017) Due to Randall's high volume of orders, if not on our shelves when you order, delivery of Randall knives ordered from A. G. Russell is currently taking 7 to 8 months. If ordered directly from Randall the wait is currently about 5 years.
Type

Fixed

Blade

Skinner

Blade Length

4-5/8"

Blade Steel

O-1

Handle

Ivorite

Overall Length

9-1/4"

Weight

7.2 oz.

Sheath

Leather

Origin

USA
Randall Made Knives
For over 75 years, Randall knives have been the best-known handmade knives in the world. No two Randall Made™ knives are exactly alike, for no jigs or patterns are used in their final construction. Large-scale commercial production with this kind of attention to detail is not feasible and that's why knives of this unique quality are not widely available.
Gary Randall, the present owner, took over from his father, W. D. "Bo" Randall, in the mid 1970's and the shop remains so busy that today it takes over five years to get a knife directly from them. We are one of the few authorized Randall dealers, and try to keep a stock of their knives. If we don't have the knife that you want in stock, we can usually have it for you within 6-7 months, because our orders with Randall are booked years in advance. For anyone wanting to order directly from Randall the price will be lower but the wait will be extremely long.