Santa Fe Stoneworks Kershaw Leek Aztec Gold with Composite Blade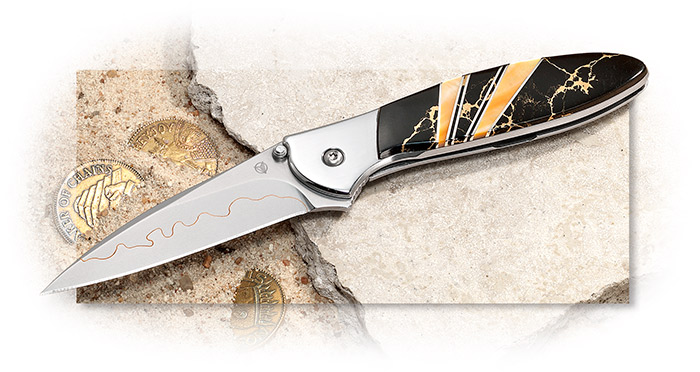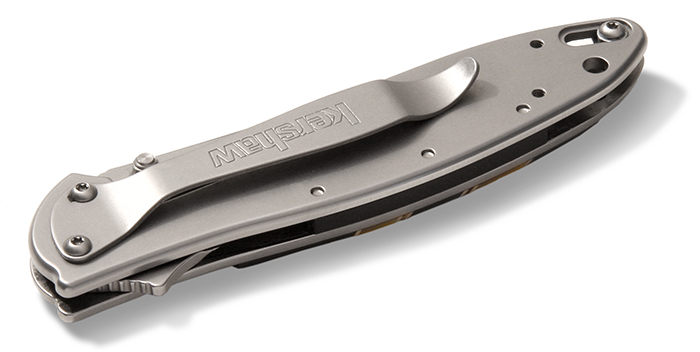 Item #:
SFE-KE60CAP
$255.00
An A. G. Russell™ Exclusive
This Kershaw Leek with Composite Blade and Aztec Gold and Gold Lip Pearl handle scales added by Santa Fe Stoneworks is a follow up to the same knife with a 13C26 stainless blade we have offered for the last few years. This seems a natural as an A.G. Russell Exclusive. The mark (obverse) side of the stainless handle is covered with Aztec Gold, a rich black mineral that contains real gold within a matrix of copper sulfides and silver, with diagonal bands of Gold Lip Pearl and nickel silver through the stone. The reverse side supports the frame lock and a removable/reversible (tip-up or tip-down) pocket clip. The top half of the 3" modified Wharncliffe blade is Sandvik 14C28N fused to a cutting edge of CPM-D2 at 58-60 Rc. A thin line of copper separates the two different steels. Measures 4" closed. Weighs 3.3 oz. Made and embellished in the U.S.A.
Santa Fe Stoneworks
In the shadows of the Sangre de Cristo Mountains sets a century-old adobe ranch house where artisans handcraft art knives of rare beauty. From one-of-a-kind custom designs to popular, affordable collections of pocket knives, table and kitchen cutlery, men's gifts and accessories, each of Santa Fe Stoneworks collectibles is a unique example of the cutler's art. If you are looking for rare and beautiful materials on a knife, look no further.